Supposing you didn't actually want a new U2 album in your iTunes library, Apple has heard your plea for help. They've created a unique link which does all the heavy lifting for you – deleting the album U2 "Songs of Innocence" from your library with ease.
You too can delete U2 from your library with the press of a button! Over at http://itunes.com/soi-remove you'll find the link which you also see below. There you'll need to be plugged in to your iTunes account, tap, and poof!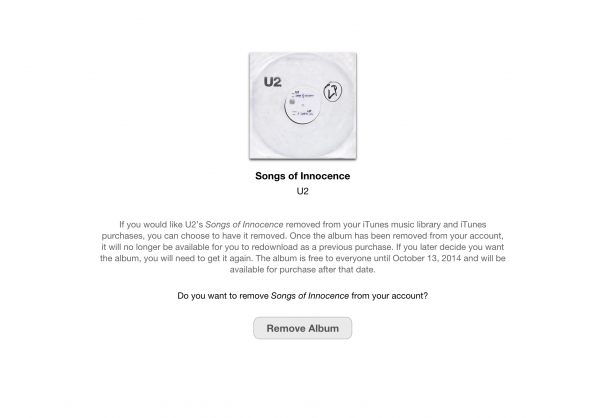 "If you would like U2's Songs of Innocence removed from your iTunes music library and iTunes purchases," the website says, perhaps begrudgingly, "you can choose to have it removed."
The text continues, assuring you that once you've removed the album from your account, "it will no longer be available for you to redownload as a previous purchase." The album will continue to be free to download until the 13th of October, 2014, at which point it'll be for sale to everyone in the general public.
Do you want to remove Songs of Innocence from your account? Let us know if you did.