Apple Grabs Nano-SIM Patent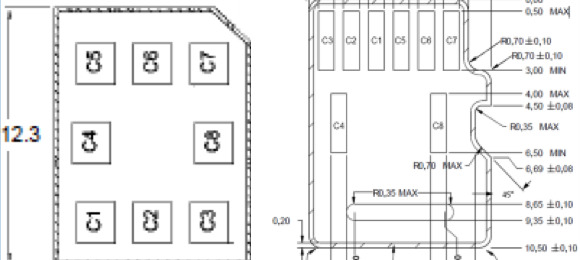 Apple's nano-SIM proposals continue to cause controversy, with Nokia's argument that its rival doesn't actually hold any valuable patents to sweeten the deal looking premature in light of freshly-granted tray design. The patent, "Ejectable component assemblies in electronic devices" (8,145,261) was filed in 2007 and granted today, describes a system of "trays that can be loaded with removable modules, inserted through openings in the housings of the devices" that could, it's suggested, be used for SIM cards and other identify modules. Meanwhile, more information on the Apple and Nokia/RIM/Motorola nano-SIM designs has been released by the ETSI.
According to a status report [ppt link] from the telecoms standards agency, neither side conceded much ground in the negotiations earlier this week. Apple's proposal, a smaller version of the existing microSIM standard, backward compatible – with an adapter to make it the correct size – but demanding a tray such as that described in the patent, was criticized by Nokia for its potential to jam in older SIM slots. Motorola argued that a small notch could be added, but that was rejected.
Meanwhile, the Nokia/RIM/Motorola proposal resembles a microSD card, shifting the 4FF-standard mandated eight contact points around so as to break backward-compatibility, but having the benefit of not requiring any sort of carrier tray. It, however, would take longer to reach the market, it was pointed out by some operators.
No agreement was reached, and Nokia said that it would object about Apple's design not meeting compliance standards for anti-jamming to plenary.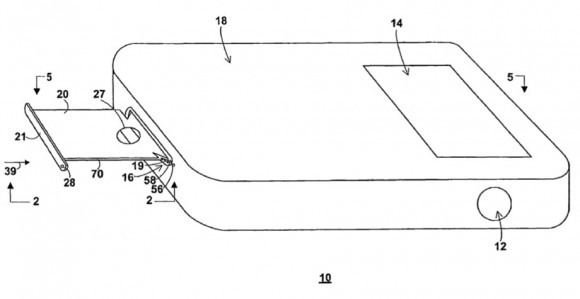 Apple had promised that, if rivals agree to use its nano-SIM proposal, it would make any patents involved freely available for their use. Nokia countered by pointing out that it could find no standards-essential patents held by Apple anyway, something which appears to have changed overnight with the latest update of the USPTO.
"Electronic devices are provided with ejectable component assemblies that can be substantially flush with the external surfaces of the housings of the devices, despite variations in their manufacture. The ejectable component assemblies may include connectors coupled to circuit boards of the devices, and trays that can be loaded with removable modules, inserted through openings in the housings of the devices, and into the connectors for functionally aligning the removable modules with the circuit boards. The ejectable component assemblies may also include ejectors coupled to the housings of the devices for ejecting the trays from the connectors and, thus, from the devices themselves" Apple patent
Apple's tray system, as described, could be used not only for nano-SIMs but for identity modules used for secure payment systems. One possibility would be a double-slot tray that could accommodate both chips.