Apple flash redirector system could target camera lighting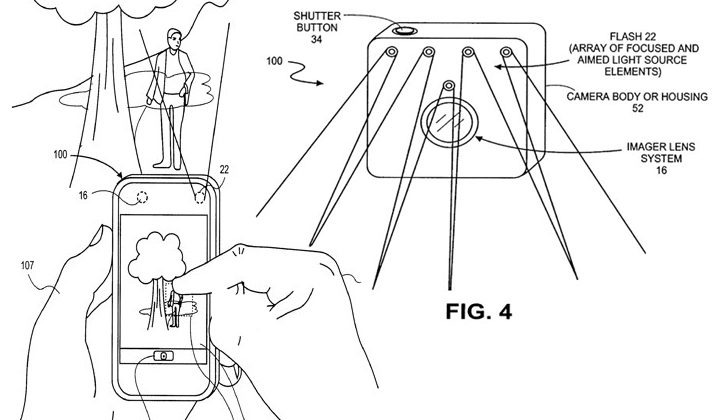 Apple has applied for a patent on a new camera flash redirector system, that could see future iPhone cameras being able to selectively aim their flash at different parts of the scene.  Intended to target illumination at the subject of the picture – rather than merely blanket the frame with light – the new flash system could either use a moveable light source, a lens that redirects a fixed light source, or even multiple lights, each focusing on a different part of the frame and selectively controlled by either the user or the camera.
Both automatic and manual control is discussed: the iPhone owner could use the smartphone's touchscreen to pick out which part of the scene they wanted to be better illuminated, or alternatively the camera itself could use a combination of image analysis, the ambient light sensor and auto focus sensor to decide which elements needed the most lighting.  The flash itself could be fixed, its "peak spatial energy" angled by means of a twisting lens, or alternatively the lens could be fixed and the light source able to shift instead.
A more space-consuming arrangement could see an array of fixed, differently-angled flash units which could individually or collectively be fired according to the requirements of the scene.  Apple suggests the new flash redirector system could be used both for still photos and video, with the latter more efficiently using battery power by only targeting the subject of the footage.