Apple eying LG OLED for iPhone, touchscreen netbook, more?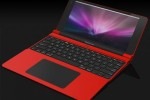 A deal with Kodak isn't the only LG OLED rumor around today; according to Australian site Smarthouse, LG will be providing Apple with a whole range of OLED displays for use in their desktop, media device and portable device ranges.  Quoting sources inside LG Korea, they claim the OLED panels will see service in a new iPhone and iPod touch later this year.
Apple will also use the OLED screens in new notebooks and OLED desktop monitors.  Even the Apple TV line will get a refresh using the new display technology; according to the sources, Apple is considering a "wafer thin OLED screen made by LG that will link with a wireless content device".
Indeed, Apple have already put together a prototype netbook that uses a touchscreen OLED display.  LG are supposedly testing a new layer which, when added to the OLED surface, can eliminate "finger marking".