Apple eyeing newspaper subscriptions as next App Store push?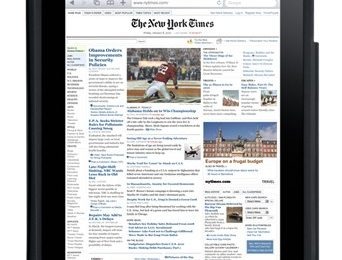 Apple's next step in taking on Amazon's Kindle service might be newspaper subscriptions, according to sources at publishers and metropolitan papers.  While the Cupertino company itself is declining to comment, the chatter is that Apple is pushing for subscription plans – from which it would take a cut – whereas the papers themselves wanted to pay them a set fee.  Still, they're pushing ahead with the proposal in an attempt to turn around declining revenues in print.
According to Roger Fidler, the head of digital publishing at the Donald W. Reynolds Journalism Institute in Columbia, Mo., Apple are expected to be looking for 30-percent of all subscriptions sold for the iPad, iPhone and iPod touch via the App Store, together with up to 40-percent of any advertising revenue.  The latter will be supported by opt-in consumer information that will allow the publishers to serve up custom ads to better suit the readers.