Apple event confirmed for September 9th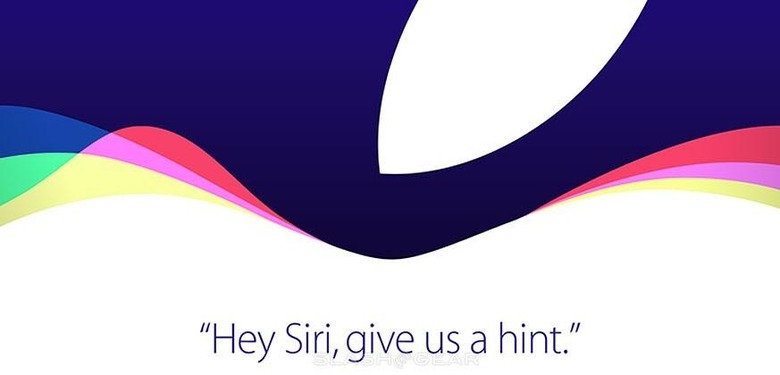 Apple confirms an invitation-only press event set for Wednesday, September 9th in San Francisco. This event will take place at 10AM Pacific Time and SlashGear will be covering the event on-site. This event has been confirmed with an invitation which includes the top of an Apple logo with multiple colors waving in and out. Also included is the phrase "Hey Siri, give us a hint." This event will likely contain reveals of several devices including the iPhone 6s and iPhone 6s Plus.
While this event will likely play host to the iPhone 6s and iPhone 6s Plus primarily, we're also expecting updates to Apple's smart home system and Apple TV. The Apple TV is expected to be the central control system for the full Apple smart home ecosystem in the near future.
What we won't be expecting is a new iPad. Instead we'll see a separate event closer to the end of the year with one or more new iPad models, including the iPad mini 4th gen and a new iPad Air.
Stick around SlashGear's Apple hub for more information throughout the week. You can catch SlashGear live at the event starting the morning of September 9th, with coverage throughout the event!