Apple ebook trial set to begin Monday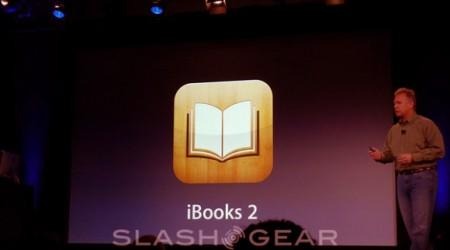 Starting tomorrow, Apple will be part of a trial in which federal and state authorities have suggested the latter company was part of ebook price-fixing. This trial will work with allegations that Apple has conspired with publishers to artificially raise the price of ebooks for sale in the iTunes Store for devices like the iPad and the iPhone. This trial was originally set to include five of the six largest book publishers in the US and was originally filed in April of 2012.
Since this case was filed, the five publishers in question exited the situation by agreeing to eliminate prohibitions on wholesale discounts – and to pay $164 million USD as a penalty, this cash going to benefit consumers. Instead of seeking damages against Apple, this case would have Apple blocked from "engaging in similar conduct", according to Rueters, though future damages could be charged against Apple if they're found liable. These charges would be filed by either state attorneys general or class action suits pushed by consumer groups.
"I believe that the government will be able to show at trial direct evidence that Apple knowingly participated in and facilitated a conspiracy to raise prices of e-books, and that the circumstantial evidence in this case, including the terms of the agreements, will confirm that." – U.S. District Judge Denise Cote
It would appear that Apple is not going in to this battle with as much confidence from the judge hearing the trial as they'd like – Judge Denise Cote will be hearing the case without a Jury starting June 3rd. This comment was made by the judge on May 23rd at a pretrial hearing.
Each of the five publishers that've settled, Hachette Book Group Inc, Pearson Plc's Penguin Group, CBS Corp's Simon & Schuster Inc, News Corp's HarperCollins Publishers Inc, and MacMillan, have appeared to be relatively silent on the matter since they exited the proceedings before they began.
Again according to Rueters, Apple has said that they acted independently when they entered the e-book marketplace with iBooks, and that they were unaware of any efforts by publishers to conspire beforehand. The Justice Department, on the other hand, says that Apple "provided assurances" to each publisher that their rivals would join iBooks with the deal they offered.