Apple Clips updated with Memoji, Animoji, Disney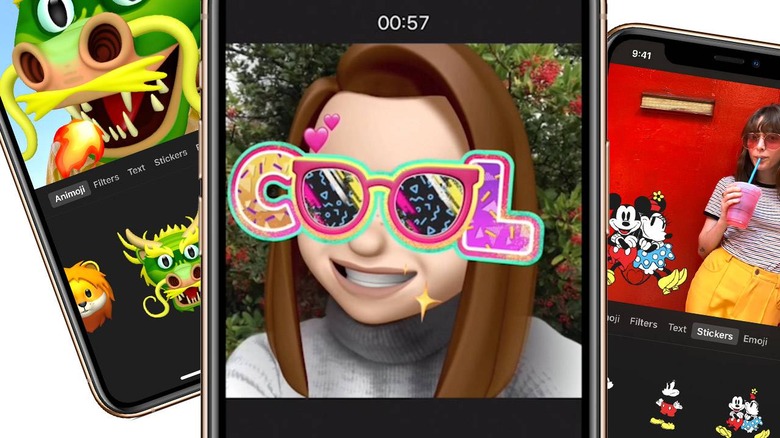 Apple released a new version of their "Clips" app today, bringing with it a number of features that'll work on the newest round of iPhone and iPad devices. This newest version of the Clips app includes support for new languages – specifically right-to-left languages including Hebrew and Arabic. Clips will also bring seven new Mickey and Minnie Mouse stickers because Disney is the dominant media force on Earth here at the tail end of 2019.
This update includes animated stickers and emoji that can "follow the movements of a user's face" in videos captured with device front-facing cameras. According to Apple's release on the new app, "whether users are moving up and down, left and right, or towards and away from the camera", objects like speech bubbles and sunglasses "stay connected to their face."
This is the first version of Clips where users can "tap into the fun and creativity of Memoji and Animoji characters." Memoji that've been created in the Messages app (also on iOS) will appear in Clips automatically, and because of the data captured with Animoji videos, Animoji characters can be changed in a video after capture.
Animoji, Memoji, and and some Selfie Scenes features require Phone or iPad Pro with TrueDepth camera. Memoji and Animoji characters will appear in Clips with the ability to layer with other Clips features – stickers, filters, animated text, and other features included.
Clips version 2.1 will appear available for download today for all iOS devices running the latest version of their mobile operation system. This includes iPhone 6s, iPhone SE or newer, iPad Air 2 or newer, and iPod touch (7th generation) (only that one model). Those all require iOS 13 or iPadOS 13 or newer to get this update. Take a peek at the timeline below for other past updates on the most recent set of devices.