Apple blasts through 25 Billion App Store downloads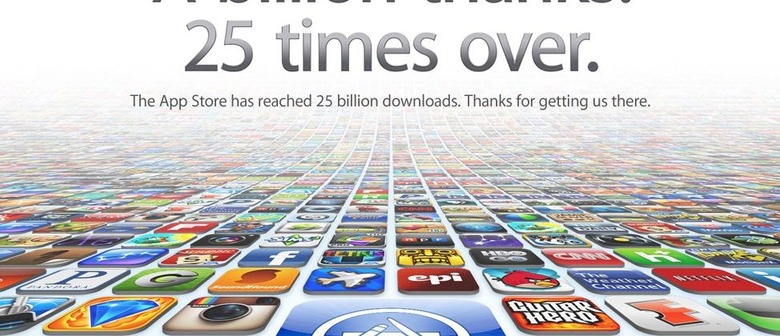 Apple has passed the 25 billion downloads mark in the App Store, thanking users of its iOS devices for helping the company – and the legions of iOS developers – for helping them reach the software milestone. Tipped as imminent in mid-February, the news confirms the App Store as the most active of the current software download portals. As for the winner of the 25bn downloads competition, Apple will announce who gets the $10,000 App Store gift card imminently.
That $10,000 prize – which will be given to the person who downloaded the 25 billionth app, or submitted one of Apple's online entry forms at the appropriate point – can be spent not only on App Store items but in the iBooks Store and the iTunes store. Sadly there's no cash equivalent.
Apple's approach to software has been both copied and criticized in the years since the App Store was launched. The download center has been critiqued for its stringent submission guidelines, which weed out content the company deems inappropriate for its platform and users; however, it has also helped keep the store relatively secure and malware-free, in comparison to less rigid stores such as the Android Market.
Next week, Apple is expected to announce its latest iOS device, the iPad 3, at an event on Wednesday, March 7. The third-gen iPad may also be accompanied by a new Apple TV, however, which may too gain App Store access. SlashGear will be liveblogging the whole event over at live.slashgear.com, so join us from 10AM PST for all the details!