Apple Black Friday deals kick off: $101 off iMac, MacBook Pro & Air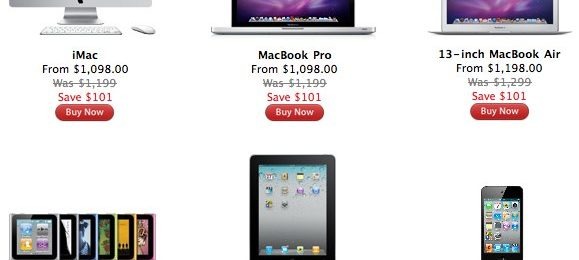 Apple has kicked off its Black Friday deals, with both the US and UK online stores – among others – offering discounts across the Mac, MacBook Pro, iPad, iPod and accessory lines. In the US store, you can save $101 off a new iMac, MacBook Pro or 13-inch MacBook Air, while there's $41 off an iPad.
The iPod nano, meanwhile, is down $21 on the 16GB model or $11 on the 8GB; as for the iPod touch, you can save $21, $31 or $41 respectively on the 8GB, 32GB or 64GB versions. The iPad camera connector kit is down $5 to $24, Apple's wireless keyboard drops $5, and there's $5 off both the Magic Mouse and the Magic Trackpad.
In the UK store, meanwhile, there are £81 savings on the iMac, MacBook Pro and 13-inch MacBook Air, while the iPad is down by £35. iPod nano savings are up to £10.99 while iPod touch discounts are up to £14.99. The deals are good for today, Friday November 26 only, but you may find better if you shop around official Apple resellers.
Plenty more deals to be had in The SlashGear Black Friday Deal Guide of Complete Excellence.