Apple App Store hits 35 billion downloads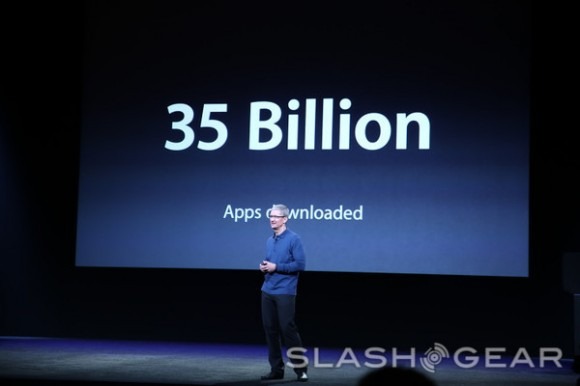 Tim Cook is currently on stage at Apple's big event, but before he gets to revealing whatever today's focus is (cough iPad Mini cough), he's touting some of the company's latest numbers. We already heard about things like iOS 6 and Mountain Lion, but when it comes to the App Store, Cook had some impressive numbers to share. When Cook took the stage last more, he told the audience that there were 700,000 iOS apps on the App Store, 275,000 of which were iPad apps. Today, he says that both of those numbers are still growing.
One of the biggest announcements of Cook's presentation, however, is that the App Store has hit 35 billion downloads. Compare that to Google Play's recent 25 billion downloads milestone, and it sounds like we've got a heated competition on our hands. Even better? Apple has paid out $6.5 billion to developers since the launch of the App Store, which definitely isn't anything to stick your nose up at.
Of course, that $6.5 billion figure means that Apple is making a decent chunk of change on the side. These are some pretty big achievements for the iOS App Store, and you can bet that Apple will want to continue attracting new developers to iOS. Also something that's certain: there are at least a few developers who are making a lot of money on the App Store. Stay tuned for more information straight from Apple's event, and be sure to check our Apple hub for any news you may have missed!