Apple antenna engineer job listings fuel controversy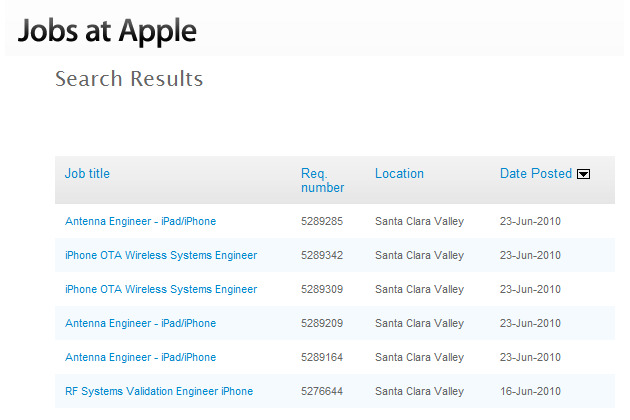 If at first you don't succeed, call in the troops and try again.  New job listings for antenna engineers have gone live on Apple's site, with several being posted this past month.  Among the positions are "RF Systems Validation Engineer" for the iPhone, focussed on testing the various radios the smartphone now contains, together with "Antenna Engineer" for the iPad and iPhone, designing new antenna systems.  The postings come as Apple faces criticism over the iPhone 4's reception.
The positions are all looking for relatively experienced engineers, with several demanding in excess of ten years industry experience, all the relevant certification and, in some cases, a PhD.  Curiously, some of the most recent listings were added on June 23rd, which just so happens to be the first day that complaints regarding iPhone 4 reception began to proliferate.
Of course, this could all be coincidence, but with Apple insisting that their latest smartphone isn't out of the ordinary in the way it handles reception the sudden rush to bring in new antenna expertise is likely to further stoke speculation.  A recent leaked memo sent to AppleCare employees made it clear that no free Bumper cases were to be given to owners complaining of poor reception.
[via TechCrunch]