Apple 17-inch iMac landing for $899? [Updated: probable not]
Apple have leaked the existence of an entry-level 17-inch iMac, slotting in beneath the 20-inch and 24-inch versions.  The all-in-one desktop was revealed on the company's education pages, prompting speculation that Apple envisage primarily student and school buyers.Update: It looks as though this could just be the old 17-inch plastic iMac; more details after the cut.
"The new 20-inch and 24-inch iMac deliver a 30 percent larger display, twice the memory, and twice the storage. The new iMac line also includes a 17-inc model starting at $899" Apple
According to the webpage the 17-inch iMac will be priced from $899.  Currently only the 20-inch and 24-inch models are listed on the mainstream Apple pages, priced from $1,199 for the smaller desktop and from $1,499 for the larger.
There's no official word from Apple about the existence of the machine, beyond the brief academic mention.  That means no idea of whether it's a shipping product, currently available to order or pre-order, or even set to go on sale to mainstream buyers.
Update: Could this merely be the 17-inch plastic last-gen iMac?  It certainly looks that way.  Click through the iMac purchase page in Apple's education site, and under the new aluminum iMacs there's a link to buy the 17-inch old model from $899.  Unfortunately it doesn't look like Apple have developed a new, smaller iMac.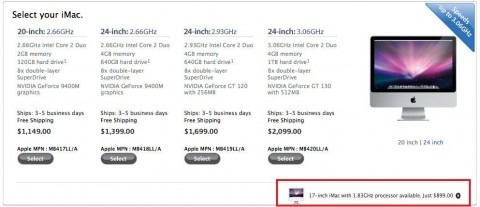 [via Pocket-lint]