Aperion Audio SLIMstage30 soundbar promises pseudo-5.1 without walls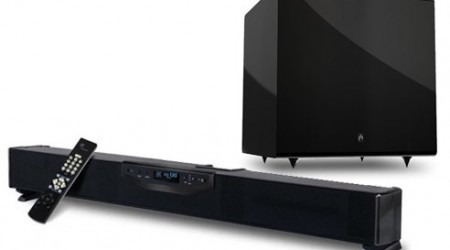 Aperion Audio have rolled out their latest soundbar, the Signature SLIMstage30, and if you've been looking for a way to discretely add pseudo 5.1 surround sound to your HDTV then it should probably be on your shortlist.  Unlike many of the soundbars we see, Aperion don't expect you to live with one of a handful of factory presets; instead, you can tinker contentedly with the audio profiles until your stubborn, picky ears are happy.
Interestingly, Aperion also reckon you won't need the usual four regular walls that soundbars usually bounce their directed surround signals off of.  Instead, their Euphony HD system apparently does it all virtually, though it's not entirely clear how that works.  Still, you've got 140W RMS shared out between the multiple speaker units, six inputs (half analog, half digital) and Dolby Digital and DTS Digital Surround certification.
There's also a headphone port and a front-panel input for plugging in your PMP.  The SLIMstage30 on its own is priced at $599, but Aperion Audio also offer a bundle that includes it and their own 100W Bravus 8A subwoofer for $799.
Press Release:
Aperion Audio's New Powered Soundbar Enhances the HDTV Experience

for Home Theater Enthusiasts' Other Rooms

The Aperion Signature SLIMstage30™ Soundbar Matches Flat-panel Simplicity

and Allows the Enthusiast to Customize Their Sound

Portland, OR, April 15, 2010 – Aperion Audio, a consumer direct maker of award-winning home theater speaker systems, introduces the Aperion Signature SLIMstage30 Soundbar, a slim profile speaker system for HDTVs. The SLIMstage30 is designed to create theater-like sound for flat-panel HDTVs in secondary viewing locations, such as bedrooms, dens, and children's play areas where simplicity and room aesthetics are just as important as the surround sound experience. Although simple to connect right out of the box, an easy to use settings menu also allows enthusiasts to optimize the sound for their specific room and personal preferences.

As households add a second or third flat-panel HDTV, these secondary viewing locations may not accommodate a 5.1 home theater speaker system due to room size, layout, or pure aesthetics. "Because of our direct relationship with consumers, we were able to sit down in one-on-ones with key decision makers in the home," said Ed de la Fuente, VP of Marketing for Aperion Audio. "Most consumers already expect that a single speaker really can't match the surround sound performance of a discreet 5.1 home theater system, but for these secondary locations they place a premium on aesthetics such as wanting the speaker to visually disappear under the TV. Still important, however, are dialogue intelligibility, a wide surround effect, and clean, dynamic bass – like they get in the theater," he said. De la Fuente added that "While both men and women desire simplicity of setup and use, the audio enthusiasts also want the ability to 'tweak' the system for optimal sound in their home – so after giving them an accurate starting point, we made sure to include that functionality as well."

The system includes the Aperion Signature SLIMstage30 Soundbar and the Aperion Bravus 8A Subwoofer which provides 100W RMS of low frequency power. The SLIMstage30, engineered in partnership with Soundmatters International, Inc. of Reno, Nevada, includes the 31-inch wide powered soundbar, with a profile of only 3 ½ inches high by 3 ¾ inches deep, and is finished in a gloss black wrap-around grille to fit most HDTV aesthetics. Soundmatters' patented Linear Magnetic Drive™ speaker array is driven by a total of 140W RMS (at less than 0.8% THD) to create a clear and wide surround sound image. With its built-in decoding of both Dolby® Digital and DTS™ Digital Surround, this soundbar accurately recreates what movie producers intended using Euphony HD™ surround technology, which does not require reflecting walls to create a virtual surround experience.

Pricing and Availability:

The Aperion Signature SLIMstage30 Soundbar and the Aperion Bravus 8A Subwoofer system is priced at $799. The Aperion Signature SLIMstage30 Soundbar standalone unit is priced at $599. Both are available now at AperionAudio.com.

Warranty:

Aperion Signature SLIMstage30 Soundbar Warranty: Two (2) year limited warranty covers all defects in material and workmanship. Aperion Audio Bravus 8A Subwoofer Warranty: Ten (10) year limited warranty covers all defects in material and workmanship. Three (3) year warranty on the amplifier.

The Aperion Audio Experience:

Aperion was the first in their industry to provide free shipping both ways with their Risk Free 30-Day In-Home Audition™. Aperion's "Home Theater Gurus" are available to assist those shopping for audio systems from initial research through lifetime technical support. The "Gurus" are home theater experts, focused only on making sure the customer is able to enjoy a lifetime of great sound.