There's a new display in town from AOC, and it comes with what AOC describes as a "frameless" body. This is part of the V2 Series of frameless monitors – again, AOC's term, not ours. There are three models: a 22-inch (22V2H), 24-inch (24V2H) and 27-inch (27V2H) model. Each of the monitors has a Full HD IPS display panel with AMD FreeSync tech under the hood and what AOC calls a "true zero-edge design".
AOC makes pretty nice displays – and they're not shy about trying something extreme when it comes to next-gen features. With the V2 Series, they're not worried about their hardware falling to the floor. As our colleagues in microblogging on Weibo would say, there's no Drop Department here!
Each of these monitors has a total of 1920 x 1080 pixels across their varied-sized face, all with 75Hz refresh rate. Viewing angles are apparently all the same at 178 degrees, and all monitors have 20M:1 dynamic contrast with a 5ms response time. All monitors in this line have VGA, HDMI, and power – and possibly more (see each monitor for exact ports).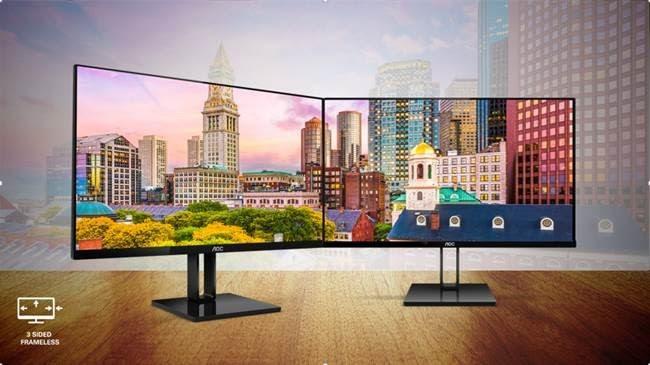 AMD FreeSync is a technology that puts a little brain power in the monitor rather than leaving it to simply display what's been sent. This technology does its best to reduce the time between computer output and display to zero – with AMD graphics processors at the helm. Have a peek at a post from all the way back in 2015 to learn what AMD FreeSync is all about.
Each of the AOC V2 Series monitors is available right this minute through Amazon and Newegg. Pricing should be at or near the following: $99.99 for the 22V2H, $129.99 for the 24V2H, and $169.99 for the 27V2H. You'll find the 22-inch model up on Amazon now, likely "temporarily out of stock" until they're activated. Also you'll be able to search for the others by model number immediately if not soon.
SlashGear uses affiliate links, and sometimes if you buy something we'll get a small cut of the sale.