AOC outs 9.6mm-thick LCD and 3D display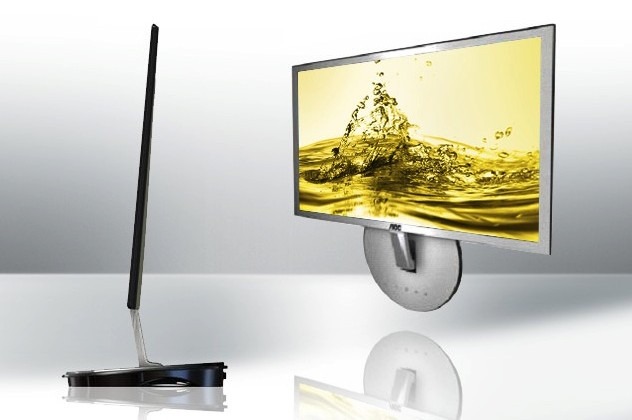 AOC has unveiled a range of new monitors, including a 9.6mm thick LCD and a Full HD 3D display. The AOC 2436Vwz is a 23.6-inch LCD running at 1080p HD resolution and using a 3D-capable screen; it's not clear at this stage what type of 3D technology AOC is adopting.
Still, it has the usual range of connectivity, with VGA, DVI-HDCP and USB 2.0, though we'd have liked to have seen HDMI on there as well. Meanwhile, the AOC i2353Fh is the company's super-skinny model, a 23-inch flatscreen which is just 9.6mm in thickness. It has a pair of HDMI inputs.
There are also new business and home displays, detailed in the press release below. AOC is being pretty miserly on the specs, availability and pricing at the moment, but we'll update when we know more.
Press Release:
AOC presents innovative displays on the occasion of this year's CES in Las Vegas

Berlin, 6 January 2011 – From 6 – 9 January 2011 AOC presents its new products in parallel to the Consumer Electronics Show (CES) in Las Vegas. Next to attractively designed 3D and business monitors, the display specialist will also introduce a sophisticated super slim display with a profile of less than 1 cm.

A profile of just 9.6 mm: AOC i2353Fh

Ultra slim design display

With its profile of just 9.6 mm, AOC's i2353Fh is one of the slimmest displays worldwide. The attractive 59.8 cm/23.6″-sized model with two HDMI connectors is suitable as the ultimate design statement for both office and home.

3D model AOC 2436Vwz

3D display for exciting entertainment

With the 59.8 cm/23.6″ model 2436Vwz AOC presents its very first 3D display. The Full HD LCD offers numerous connections (VGA/DVI-HDCP/USB 2.0) and will wow any user with razor-sharp images. Thanks to the quick response time, even the fastest action scenes can be displayed without delays.

AOC e2450Pa

New line of business displays

Display specialist AOC sets new highlights in the office and at home with the 50ID, a series of versatile LED monitors with screen diagonals ranging from 47cm/18.5″ to 59.8 cm/23.6″. The slim widescreen models in a timelessly classic black design are equally suited for office applications and entertainment. Thanks to numerous features and innovative LED lighting the displays impress with an excellent image quality.

43ID series: pure lifestyle

Lifestyle displays: new 43ID models with 2x HDMI

Right from their launch at the end of 2010, the 43ID series proved to be very popular. During the first quarter in 2011 the latest generation with a response time of 2 milliseconds will enter the market. It offers one VGA and two HDMI connections, providing a lot of flexibility for attaching digital audio/video sources. With a slim profile of just 1.29 cm, an attractive design and an impressive performance, the 43ID series is directed at design-conscious ambitious users in the professional as well as the home environment.