Anthem Xbox One S bundle hands out free trials like candy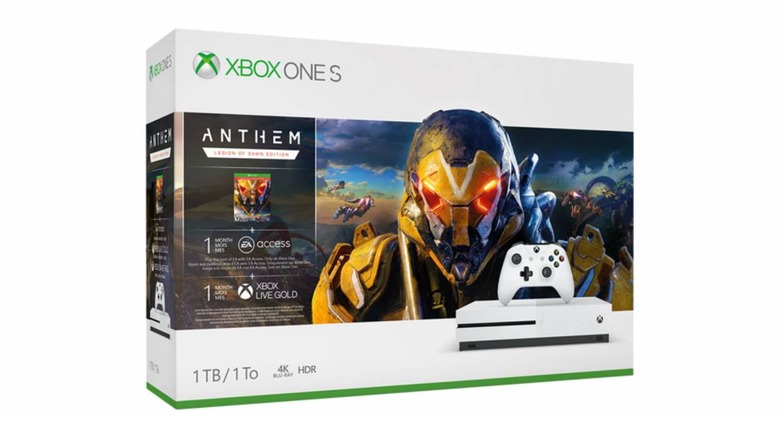 Even though we may have been distracted by the surprise launch of Apex Legends, there's another high-profile Electronic Arts game hitting shelves this month: BioWare's Anthem. Today, EA and Microsoft announced that Anthem will indeed be getting an Xbox One bundle in time for launch, and it comes with a decent amount of bonuses for those who are looking forward to the game.
Unfortunately, those of you looking to buy an Xbox One X will need to opt for a different bundle, as this Anthem bundle is only for the Xbox One S. We're not getting a custom console either – instead, we'll have just a plain white Xbox One S and a matching controller. The Xbox One S that comes in the bundle does have 1TB of storage though, which is always nice in this age of massive digital games.
So, what do you get with this bundle? You'll get Anthem Legion of Dawn Edition, which ships with four legendary armor packs and a legendary weapon. You'll also get one-month trials to EA Access, Xbox Game Pass, and Xbox Live Gold. We're used to seeing free trials for Xbox Live Gold and Game Pass in these bundles, so it seems that EA decided to toss in the trial to EA Access for good measure. As with most of these Xbox One S packages, the Anthem bundle will run $299.99.
A lot of eyes are going to be on Anthem when it launches later this month. BioWare games always get a ton of attention, of course, but a report we heard last year suggests that it's a big release for BioWare in more ways than one. Whether or not that report is accurate remains to be seen, but at the very least, it'll be interesting to see if BioWare can get its groove back after the stumble that was Mass Effect: Andromeda.
In any case, this Xbox One S bundle will be available here in the US on February 22, the same day Anthem enters wide release. Some people, like those who pre-ordered the game or subscribe to Origin Access Premier, will get access to Anthem before that, but for the rest of us, February 22 is the big day.