Anonymous hacks North Korea's social media in net freedom bid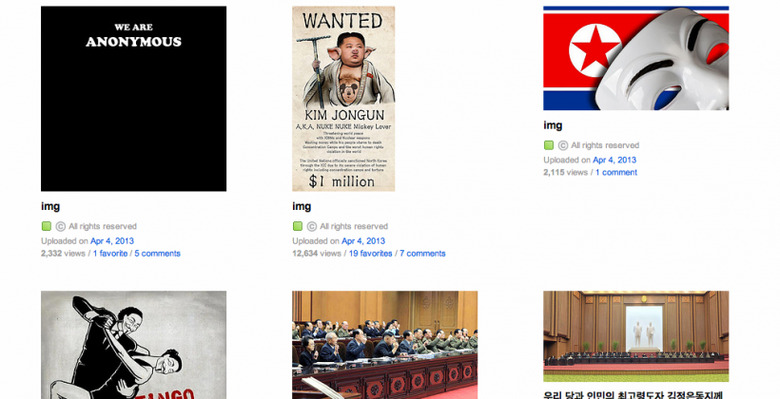 Hacking collective Anonymous has apparently selected its next high-profile target, in the shape of any sites or social network accounts related to North Korea, seizing control of Flickr and Twitter pages in the process. The activists cracked the Uriminzokkiri accounts and uploaded images of their own, which still remain online at time of writing, in addition to claiming to have extracted 15,000 usernames and passwords from the site, the BBC reports. Anonymous' goal appears to be loosening the restrictions on internet access North Koreans face from their government.
To draw attention to that cause, Anonymous has been spreading its mischief as broadly as it can. The Uriminzokkiri Twitter account remains apparently hacked, and the main site itself has been taken down, though it's unclear whether that's due to a hack or a denial-of-service attack.
In an expletive-punctuated release the purported team responsible for the hacks describe the campaign as one targeting "oppressing and violent regimes" and calls for an end to the North Korean nuclear program and the resignation of Kim Jong-un. There are also demands for a "free direct democracy" in the country, alongside "uncensored internet access."
A follow-up release went on to describe a "a chain of long distance WiFi repeaters with proprietary frequencies" that had been used to bring internet access some way into North Korea itself. The system is described as "slow and unstable" however, and subject to retaliation by the government.
Attitudes toward internet access in North Korea had seemed to be loosening in recent months, with the country even allowing visitors to access the web on their mobile devices in early March. However, the freedom was short-lived, lasting only a few weeks before North Korea clamped back down on it.