Anki's Cozmo introduced as a consumer-level robot with personality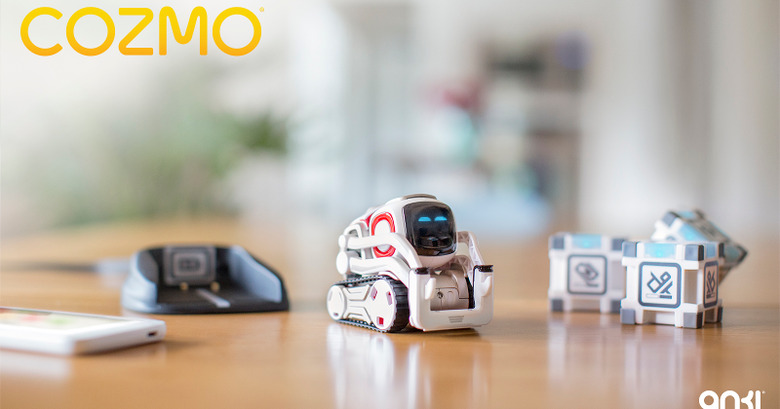 Artificial intelligence and robotics are two things that permeate modern-day life, whether it's the Curiosity rover scouring the surface of Mars or Watson dominating at a game of Jeopardy. For the most part, however, these robotic applications have been left to the professional spaces, be it the military, manufacturing, or science in general. But what about consumer applications? Overdrive developer Anki is asking that very question today with the introduction of its new, consumer-focused robot that goes by the name of Cozmo.
While most robots seem to be developed with some form of work or automation in mind, Cozmo's main area of focus is that of play. The little robot rolls around on two treads, almost like a mini robotic tank. Anki says that each Cozmo sports over 300 parts, so even though he's tiny, he's packing a lot of hardware.
Hardware, however, isn't the main draw of a robot like Cozmo. Instead it's his personality – Cozmo is a robot that apparently loves to play, and his behavior will reflect that. Watching the company's promotional video, it really seems like Anki wanted Cozmo to be a character instead of just a robot, and the way he interacts with humans solidifies that. Cozmo will recognize his human friends and interact with them through a variety of actions and facial expressions, even going so far as nudging your arm to remind you that it's been a while since you two played a game together.
Though Anki claims that robots "with comparable capabilities are found in labs for thousands of dollars," they're introducing Cozmo with a price tag of $179.99. That puts the robot firmly in the impulse purchase range, and if you're experiencing such impulses as you watch Cozmo interact with his human buddies, you're in luck: Cozmo goes up for pre-order today, with the first shipments heading out in October of this year.