Anki Vector: The new Rosie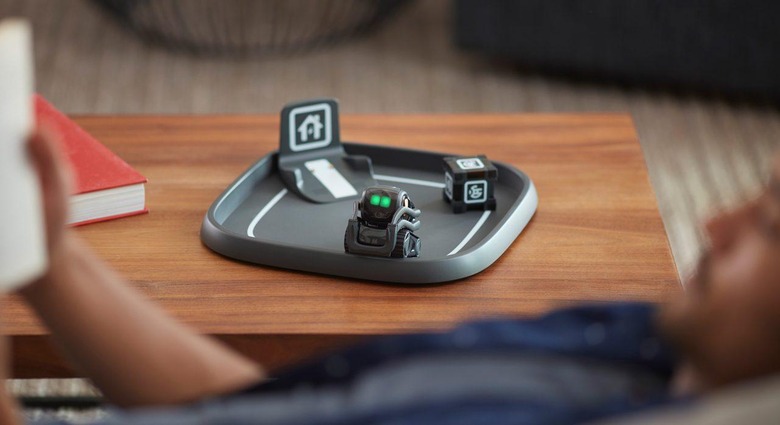 There's a new robot in town, and it's basically Rosie from The Jetsons made real. This is the second-generation friendly two-tread rolling robot called Vector, from Anki. That's the same company best known for their super-sweet racing remote control car toys and their first-generation robot, the always entertaining Cozmo. This new robot called Vector looks a whole lot like Cozmo, but it's got a new set of inside parts that take it out a WHOLE new door.
The robot named Vector is very similar to Cozmo in its most basic functions. The first and perhaps biggest difference here is the massive lack of need for constant smartphone support. Where the Cozmo robot needed a smartphone to start up, command, and listen, this new Vector robot only needs a smartphone for its very first setup process. Android or iOS, of course.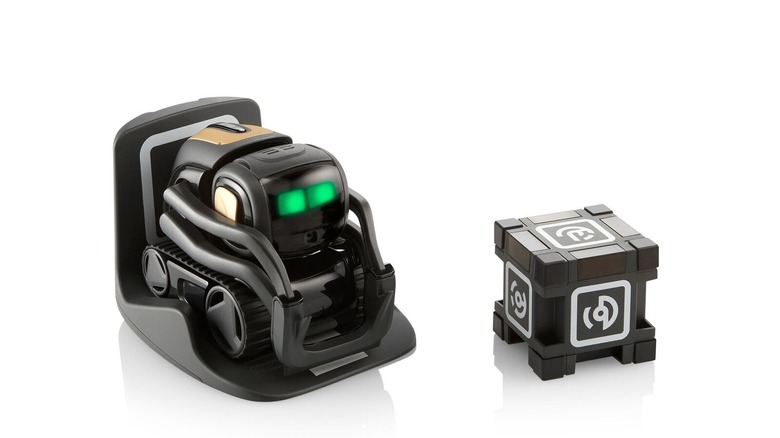 Vector has all its smarts built in to its little body. This means that after setup with a smartphone, it could potentially go on living its digital life forever without the assistance of another smart machine. All it would need is its charging dock.
Below you'll see a chart showing the differences between Cozmo and Vector. I suggest you take a peek at our big Anki Cozmo Review to learn more about what I and we called the Best Smart Toy of the year in 2016. We might as well have called it the best smart toy for the next several years too, since it remains absolutely radical even now.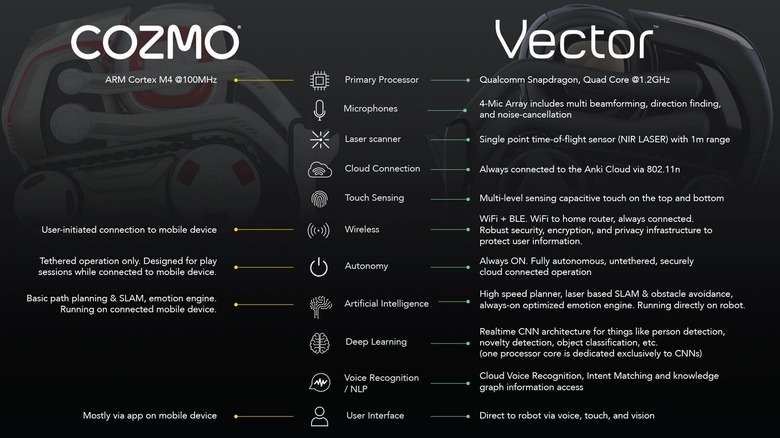 Vector is a robot that retains the personality of Cozmo but expands upon what it can do, how it reacts, and with whom it reacts. Cozmo could recognize me and call me by name if it saw my face and was allowed to concentrate for a few moments. Vector can do that too, but now it's also able to recognize when a human form is near it, even if its back is turned. It still needs a face to be able to tell WHO it's looking at, but it's far better at knowing what is around it at all times.
In the video below you'll see a bit more about Vector as explained by its creators. This robot rolls with a Qualcomm APQ8009 processor – a processor you've likely never heard about before now. It's similar to a processor like you'd find on a smartphone, but here it's made for and optimized for this smart robotic creature specifically.
Above you'll learn what Vector can do. Below you'll see what Vector is made of.
Because Vector is part of a Kickstarter which means we'll need to see the entirety of the crowd-funding campaign filled before we're sure there'll be a product. As such, a big part of this news is that we'll have to wait and see if there's enough interest before we're sure there'll be a product. But based on the amount of work that's gone into this project already, we've little doubt it won't be made into something we can hold, use, and enjoy. If you support this robot in the Kickstarter you'll likely attain it for around $200. If you wait until it's out in stores, you'll find it for around $250 – that'll be around probably by this holiday season, while the Kickstarter version will come closer to October.