Angry Birds Star Wars details continue to spill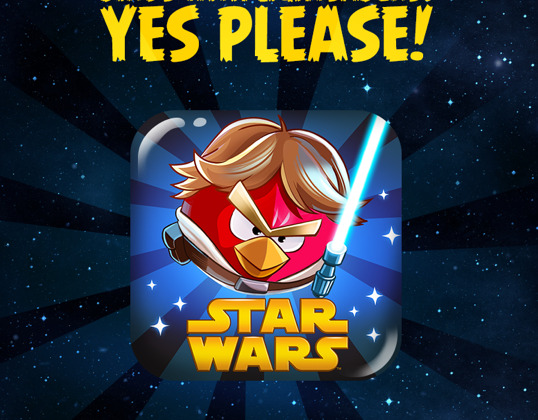 Those of you waiting for the release of Rovio's Angry Birds Star Wars game release will have to wait until November 8th, but for now, you've got details upon details spilling in all directions. What we know thus far is that you'll be working with Angry Birds that are specific to their character – Luke Skywalker, Rebel Pilot will be one without a doubt. What we've also learned since this morning's big re-announcement is that Angry Luke will be carrying a lightsaber – and that Han, Chewie, Leia, and the rest will be bringing their own heat as well.
This game will be a giant release for Rovio as it continue to bash its way into the pop universe one movie at a time. Angry Birds Rio was their first big film adventure – after that they went straight to Space with NASA! Now they're going beyond this galaxy with Star Wars in a cross-branding project the likes of which will surely set your socks on fire. Along with a whole new game will come merchandise – the mainstay of the Star Wars universe.
The trailer doesn't tell you... basically anything. It looks like the lightsaber has turned into a slingshot but taking the already utterly flimsy physics of that device and flat out slapping you in the face by turning it into something that can propel birds through space – that's just silly. What we've been able to find besides these Rovio-pushed items is a set of action figures and playsets that make it clear that we'll be knocking down AT-ATs and a Piggy Death Star.
So here's what we can take away from this exploration – we'll be flinging birds like we have been for several games now in the Angry franchise, only this time it'll be at Star Wars vehicles from the Empire. We'll be using a variety of alternate-universe Star Wars characters – complete with weapons – to knock the Empire of Piggies to the pop zone. What's not known is if this game will be its own entity or if it'll take part in Angry Birds: Space – which would make a lot of sense.
[via Idle Hands]