Angry Birds Simpsons in Space is next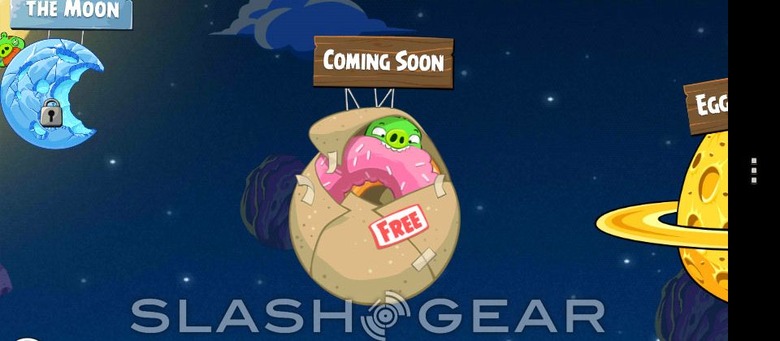 Today an update to Angry Birds Space has been dropped down for several platforms, it including no less than a teaser for a Simpsons expansion in the near future. What this expansion has to do with outer space, we cannot say, but if that's not a Simpsons-themed pink sprinkled donut, I'll eat my hat. This wont be the first time Rovio has chosen to work with a high-class pop-culture act like the Simpsons, and it wont be the last. It will however be the first time the crew has worked with a television show – perhaps this is their ushering in of their own program?
As you may well know from Rovio's talks in the past on the matter, Angry Birds will be a web-based television show immediately if not soon, if you know what I mean. It appears here in the expansion for Angry Birds Space though that they'll maybe be dipping into the cable-based blockbuster show The Simpsons as it reaches its umpteenth season. This show is one of the most successful shows on television, not to mention the most successful cartoon in history – right up there with South Park, of course.
Rovio is likely to release a Simpsons expansion on its own, but it could be integrated into Angry Birds Space in the near future instead. What we'll then also probably see is a new Simpsons Product in the form of a TV special or maybe even another feature-length film. Or maybe even some cross-branding clothing at Target stores – why not? We'll see soon!
BONUS – The Simpsons have parodied Angry Birds a couple of times already as well – it had to happen!