Angry Birds RIO Beach Volley Release Date Today!

Angry Birds RIO's first official update is being rolled out today to Android and iPhone (and iPad, iPod Touch, whatever other iOS device you've got to play it on) in the form of an awesome beach party! The RIO story continues as the Angry Birds gang (with Blu and Jewel from the RIO movie in tow) have defeated their foe Nigel for the first time at the end of the second act of Angry Birds RIO: Jungle Escape. The chase continues to the water in Beach Volley, a set of levels where those little monkey bad guys (aka Common Marmosets, if you want to know the species,) are again plaguing you with towers galore. Pop them as fast as you can!
This set of levels also plays host to a few new items such as bouncy umbrellas, beach balls, sand blocks, teeny tiny versions of the bomb box, and inner-tubes. This beach extravaganza also has watermelons as it secret golden item and you'll find one unique character just like the second act, only this time it's not another bird and it's fighting on YOUR side! You'll also be able to continue using the Blu and Jewel bird combo in multiple levels for maximum fun.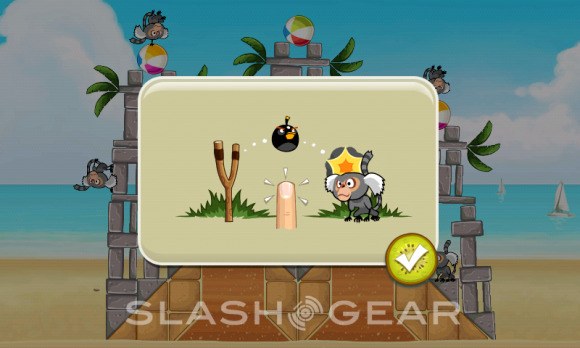 There's 30 new levels (if you don't count any super secret bonus levels that have yet to be revealed) and potentially hours and hours of enjoyment for all ages. At the moment you'll only be able to download this update to your RIO game via the Amazon App Store if you want it for Android (the Android Market version coming soon, they say,) or the Apple App Store. If you've got some other sort of device you'll be able to also get it from GetJar soon.
ALSO if you'd like a full spoiler of the game, Android Community has that too! AND note that there's a new special edition for Google Chrome browser that just came out a couple of days as well – Angry Birds shall swallow us all!