Angry Birds Goes Giant With Seattle Space Needle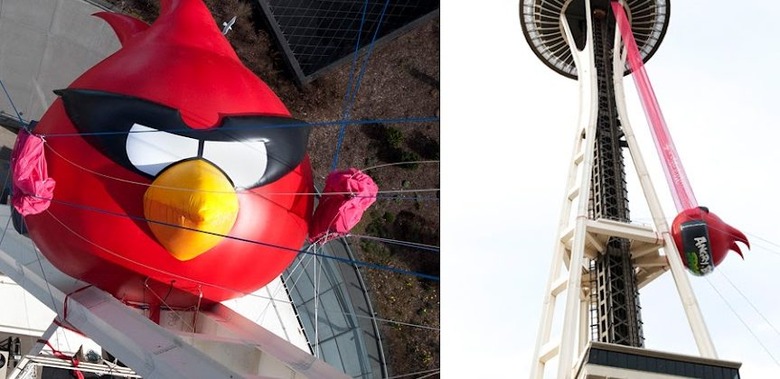 The brand new Angry Birds: Space launch has hit a new level of gigantism with an abnormally oversized Red Bird tied on to the Seattle Space Needle. This landmark gains new meaning as the physics-based entertainment game adds its own 300 foot tall slingshot as fans were invited to the top of the beast to play the game on launch day. Angry Birds: Space cupcakes were given out by Food Network's Cupcake Wars finalists, and there was much rejoicing.
This game is an expansion of the world (beyond the world, if I may) and provides a brand new set of odd physics-based actions to the game. Where before there was only one gravity level, now there's planets, moons, and asteroids to screw with your brain as you still attempt to knock out the enemy with your own collection of Angry Birds. This update is touted as a fabulous addition to the world of mobile (and desktop computer) gaming by all those involved and Peter DeLuca, senior vice president of brand, advertising and corporate communications, T-Mobile USA, had a bit to add about an upcoming promotion:
"The Angry Bird game series has been wildly popular among T-Mobile customers. So, starting this weekend, we're giving them additional exclusive content through our unique promotion within Walmart that extends the entertainment value." – Deluca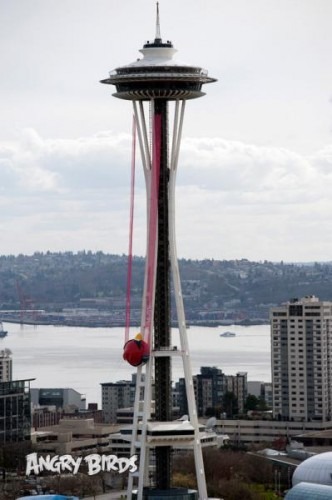 This expansion of the Angry Birds: Space game will indeed take place at Walmart and will have fans accessing what Rovio calls "Golden Eggsteroid" clues to unlock a total of four new levels in the game. Angry Birds apparel, plush toys, mobile phones, snacks, and more will be home to the clues you'll be collection, all of this starting on March 25th at 2,000 Walmart stores nationwide.
In addition, T-Mobile is having their brand new device, the Samsung Exhibit II 4G, contain a set of Angry Birds clues as well – Walmart customers will "gain access to" an Angry Birds: Space portal inside the T-Mobile Mall app. Inside this Portal, users will be able to download the game, find a hint to one of the several golden eggsteroid levels, and more exclusive extras as well!
[via G+]