Andy Rubin teases new Essential phone and it's very odd indeed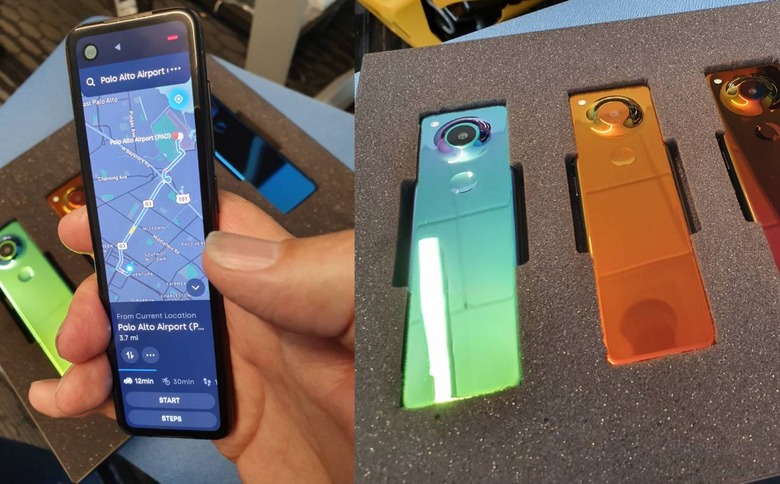 Could we be looking at the new Essential Phone, and if so are we ready for a radically different form-factor in our smartphones? Former Googler and Essential founder Andy Rubin has taken to Twitter for some unexpected teasing, showing off what looks to be a very unusual smartphone that bucks the pervasive trend for vast touchscreens.
The device he's showing – or, more accurately, devices – is like no Android phone on the market today. Indeed, it's not really like the existing Essential PH-1 phone, either.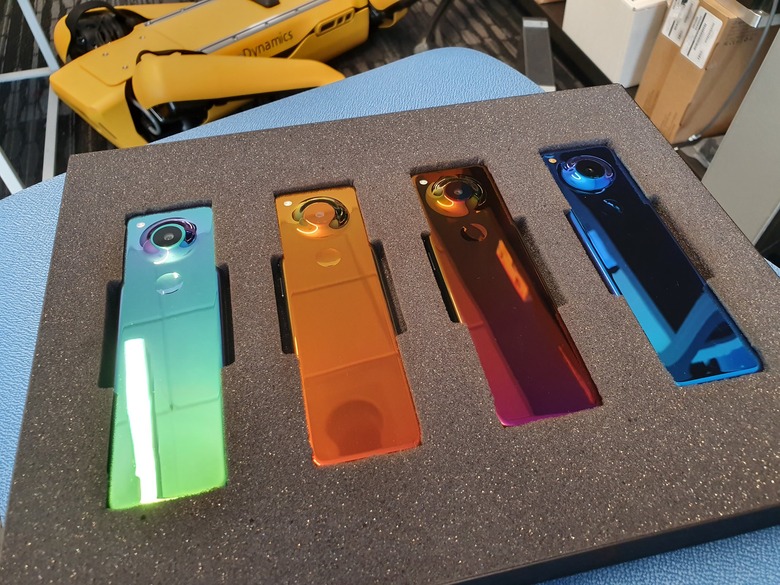 Instead, what could be the Essential PH-2 is a long, thin bar. While dimensions are hard to judge, it looks like it's about the length of a standard Android handset. However, it's also significantly narrower, maybe half the width of a typical phone. Think along the lines of a stretched-out Palm phone, and you're getting there.
Four colors are shown, which Rubin describes as "GEM Colorshift material." They're highly iridescent, changing hue depending on what angle the camera catches them. While we've seen glistening phones from Huawei and others recently, these new devices go considerably further, changing from blue through to yellow to green and then blue-silver in one case. "Still dialing in the colors," Rubin comments.
On the back, there's a dimple for what's presumably a fingerprint sensor, and the bulge of a single large camera. A second camera is on the front, offset to the left in a punch-hole cut-out in the touchscreen. A tiny speaker grille is above that.
It's the interface that's arguably most striking, however. "New UI for radically different formfactor," Rubin says, an understatement for what he's showing off. Reminiscent of the front panel display on the Galaxy Fold – when the smartphone is folded shut – the touchscreen shows a series of stacked widgets of different sizes.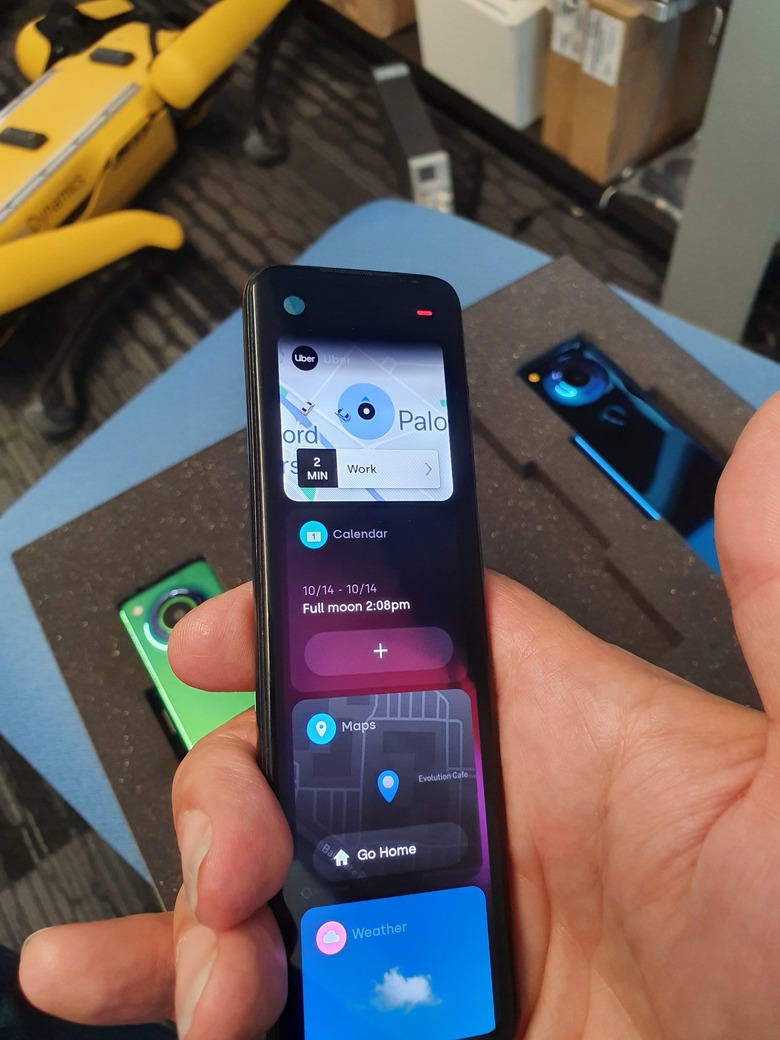 How that would work in practice remains to be seen; our guess is that one-handed operation has been prioritized above all else. The concept behind the Palm phone was that a smaller device might reduce our dependency – or addiction, depending on how you want to look at it – on smartphones. However it can still run most Android apps, albeit just on a far smaller display.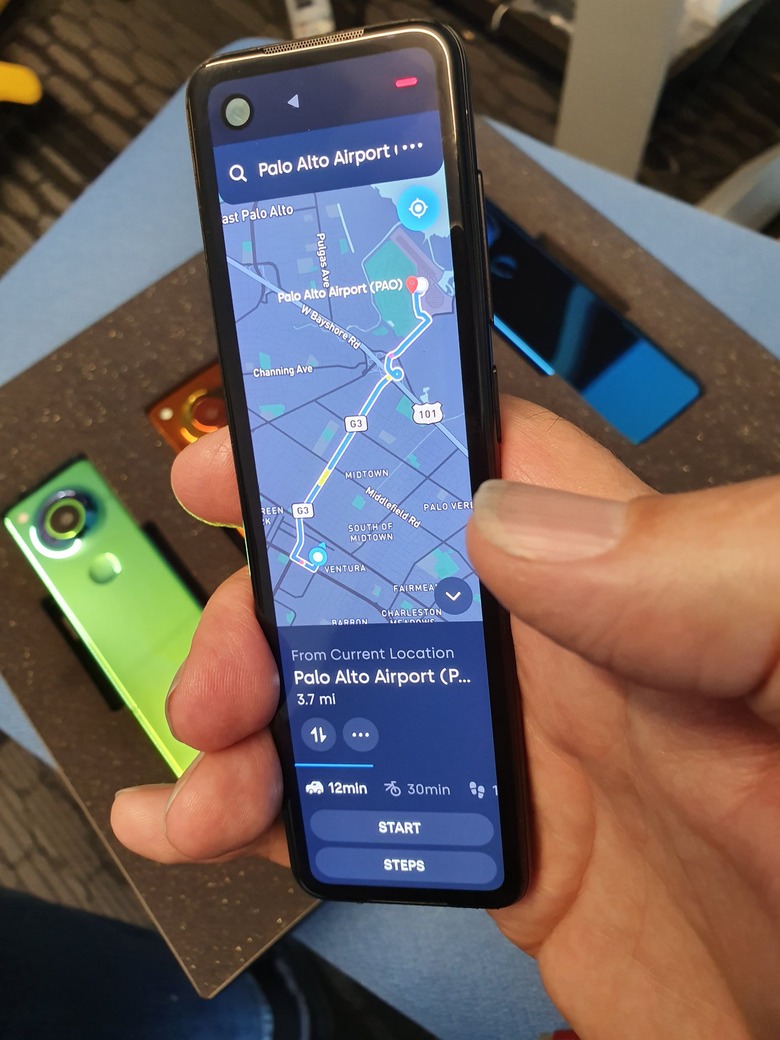 If this really is the new Essential phone, though, it's taking another approach. One possibility is that regular Android apps would work on the handset, but not take up the full display. That would leave room for other persistent widgets to remain. Even so, it's hard to imagine every app being usable on such a device.
Essential has been operating more stealthily in recent months, after the startup's original phone failed to make quite the splash that Rubin and others predicted. The concept of a modular flagship that would have greater longevity than a regular smartphone was widely praised, but Essential's work was quickly overshadowed by allegations that Rubin had left his role at Google – complete with a significant payout – after accusations of sexual harassment. Rubin denied the claims, but Google staffers held walkouts in 2018 about the so-called "exit package" the Android co-founder received.
While Essential may have been quiet on hardware since PH-1, its software engineers have been busy in the meantime: Essential has been among the first to push out new Android updates to its users, for example. Reports suggested the company had gone back to the drawing board on what would come next, and if this Rubin tease is anything to go by, the answer to that is "something very strange indeed."