Android Wear to soon support interactive watch faces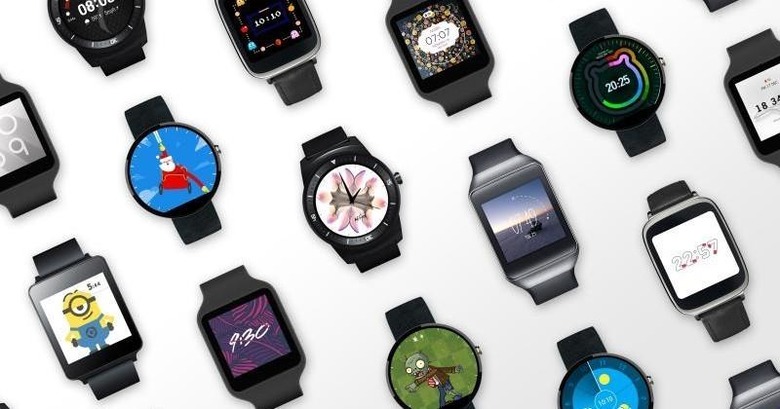 As a platform, Android is quite flexible and part of that characteristic trickles down to Android Wear. The smartwatch-oriented OS has a few hidden quirks that developers are able to take advantage of to provide functionality otherwise unavailable officially. Sadly, that can sometimes lead to unpredictable behavior, sometimes even broken functionality. Good thing, then, that Google has chosen to officially adopt one such "hack". According to insider sources, an upcoming major Android Wear update will finally bring official support to interactive watches faces. Plus, it could also introduce Android Wear to Android Wear communication.
Some existing Android Wear watch faces already offer this kind of Interactivity. Tapping on certain areas of the watch face, for example, can trigger a different action other than launching the voice search. However, that utilized undocumented and unsupported features that sometimes clashed with the system. Given its popularity and benefits, however, it seems that Google has decided to give developers this feature officially.
The leaked documents show four use cases where interactive watch faces might be useful. One is to tap through different styles for the watch faces that are available for customization. Another would be to switch between different information "faces", like on a watch face that displays weather information. Perhaps most complicated would be a tap that brings forward a new activity that will have to be swiped away when done.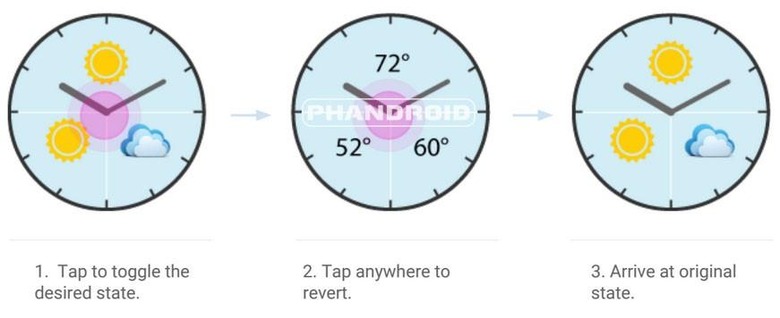 Because of this new feature, Google will also be disabling the "tap to launch voice search" gesture in the update to prevent clashes. Watch face developers will most likely be able to manually add that feature if desired.
Another new leaked feature coming our way is something Google is calling "Together". It basically mimics the way Apple Watch users can send heartbeats and scribbles to each other. While Android Wear won't do heartbeats, it will support doodles, messages, stickers, emojis, and photos. Curiously, the functionality might be tied to a single watch face. It isn't known yet if it's a generic feature that any watch face can integrate.
As to when this Android Wear update will arrive, originally it was scheduled for the end of July, but sources are saying that an August launch is now more likely.
VIA: Phandroid