Android Video Demo On Skytone Alpha 680 Netbook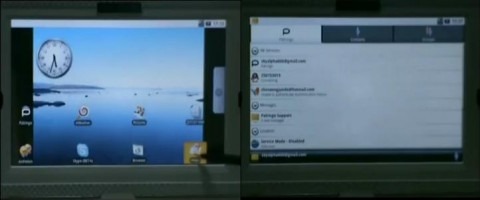 A demonstration of what looks to be a Skytone Alpha 680 prototype has been added to YouTube, showing the budget netbook running the Android OS.  Announced earlier this month, the Alpha 680 is one of the first netbooks to be confirmed as using Google's open-source platform; as the videos show, however, there's a little work to be done before it's a completely smooth transition from smartphones.
Video demos after the cut
Performance of the OS seems reasonable – if smartphone-like – with the Alpha 680's 533MHz ARM11 processor, 1GB of storage (4GB max) and just 128MB of RAM (256MB max).  What's less convincing is the stretched out OS: Android is currently formated to suit a 3- to 4-inch smartphone display, not the 7-inch panel of the Skytone. 
The Skytone Alpha 680 was first tipped to have a bargain price-tag of $100, at which point many would overlook its anemic specifications.  However subsequent information from the company revealed a far more conservative $250 target price, seemingly a balance of the touchscreen cost versus the other, cheaper components.  No word as yet on when we might see it released.