Android Update Alliance Examined, Results Since Google I/O Found Lacking

Perhaps you remember a few months ago when Google announced an alliance of manufacturers and carriers who would work together henceforth to update all devices on the Android front. The timeframe they spoke of at the conference was 18 months, a time in which all Android devices would continue to be updated, 18 months from their original inception date. No device would ever be left behind again. So how are they doing? Let's have a lovely little look.
Writer Justin Shapcott of AndroidAndMe has constructed several charts that make it easy to understand the current numbers at which all Android devices are at, version numbers specifically, and which manufacturer has the most (and the least) of each Android OS running in their library of devices. What the Android Update Alliance was said to do, again, was to hold manufacturers and carriers accountable for keeping their devices updated in a timely manner for at least 18 months after they'd been originally released. Details were and still are scarce.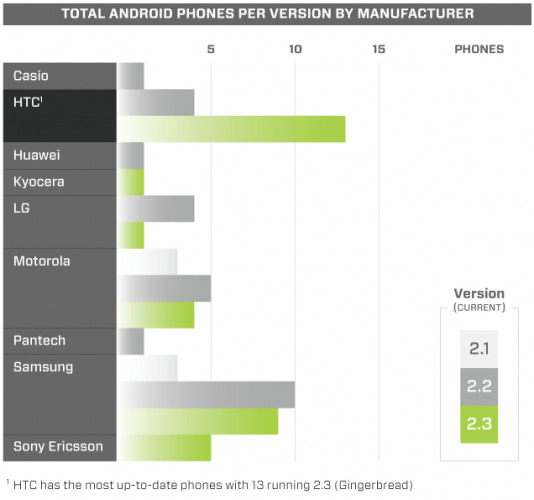 What we can see here though, is the chart showing the numbers showing who is winning the race. First of all there's a tracking of the total number of phones running Android 2.1 Eclair, 2.2 FroYo, and 2.3 Gingerbread across the board. It is HTC who is both winning with 13 devices on Gingerbread and is the only manufacturer with devices both on 2.2 and 2.3 where Gingerbread beats out their FroYo selection (and by 9 devices, no less.) Then there's Samsung in second place with 9 devices on Gingerbread (and 10 on FroYo), and Sony Ericsson followed closely by Motorola with 5 and 4 devices on Gingerbread respectively. In the chart we're seeing here from Shapcott, Pantech, Huawei, and Casio are also included though they don't appear to be part of the alliance. They're all tied at 1 device, each of them on FroYo.
As far as how many updates have been sent out to devices per manufacturer, it's a slightly different story, with HTC again in the lead, but only by a bit, having 14 devices updated out of 24 since the Google I/O announcement. Next theres Samsung with 13/33, Motorola with 10/25, LG with 9/15, and Sony Ericsson with 4/14 in total. Finally there's a big giant list again whipped up by Shapcott which shows every single active Android device out there attached to which version of Android they are currently running (as seen in the gallery below). What do you think?
Look like the updates are coming to you? Or has the Android Update Alliance been a figment of our imagination all this time?
[via Android Community]