Android Studio 2.2 preview brings Firebase plugin, new Layout Editor and more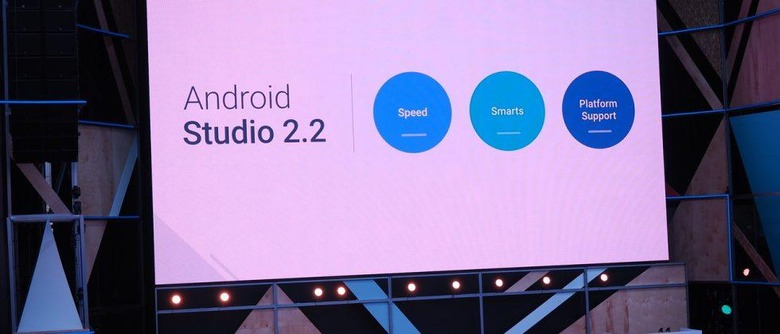 Android Studio 2.2 has been unveiled, and it brings with it numerous changes, with Google saying the new version focuses on "speed, smarts, and Android platform support." All sorts of speed boosts are found, including emulators that are three times faster than previously, with Google teasing that developers have access to emulators that are faster than the physical devices. That's just a sliver what of what all 2.2 offers, though.
At its conference today, Google announced that 92-percent of the top 125 games for the platform use Android Studio. This time around, the software can push out faster builds, as speeds have been accelerated. As well, Google has made it easier to run tests, with, among other things, the software writing Espresso test code as the developer taps around.
The new version features a rewritten Layout design; there's a new APK Analyzer, a new Layout inspector (due to ample requests, no less), integrated IntelliJ 2016.1, and expanded Android code analysis, with it surfacing many of the common issues Google says it sees in Android apps.
The new software version also features the option of adding Firebase with apps using the Assistant window, with a Firebase plugin bringing the features straight into Android Studio. Speaking of Firebase, Google announced a bunch of changes to that, as well, announcing the next-gen version that makes it 'a suite of integrated products.' There's a new from-the-ground-up Firebase Analytics tool for getting insights into one's app and its users; this is free and works with Android and iOS.
The Android Studio 2.2 preview (coming just a few weeks after 2.1) is available to grab now here.