Android scores 75% of market share in Q3, says research firm IDC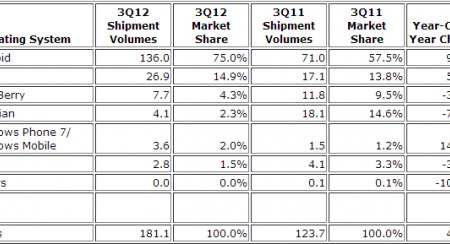 Android has dominated the global smartphone market in Q3 of this year, says research firm IDC. According to the data, Android scored a market share of 75-percent, trumping iOS, which came in at 14.9-percent. Out of a little over 181 million in total smartphone sales, about 136 million of them were running Android.
BlackBerry came in third with a 4.3-percent market share, while the other contenders came in at less than 3-percent. Says IDC's Mobile Phone Research Manager Ramon Llamas, "Android has been one of the primary growth engines of the smartphone market since it was launched in 2008. In every year since then, Android has effectively outpaced the market and taken market share from the competition."
According to Llamas, the combination of operators, vendors, and users embracing the mobile OS is responsible for nudging Android's numbers higher. Overall, 3 out of 4 consumers chose an Android smartphone over the competition. This trend has lead Google's mobile operating system to experience a 91.5-percent year-over-year increase.
For those who are curious, Samsung smartphones beat out the other Android devices. Says IDC, Apple likely experienced a slight jump in market share due to a combination of lowered prices on older models and launching the iPhone 5. According to Kevin Restivo, IDC's Senior Research Analyst, "Google has a thriving, multifaceted product portfolio. Many of its competitors, with weaker tie-ins to the mobile OS, do not. This factor and others have led to loss of share for competitors, with few exceptions."
[via TNW]