Android Market 10 Billion Promo sees premium app price-slash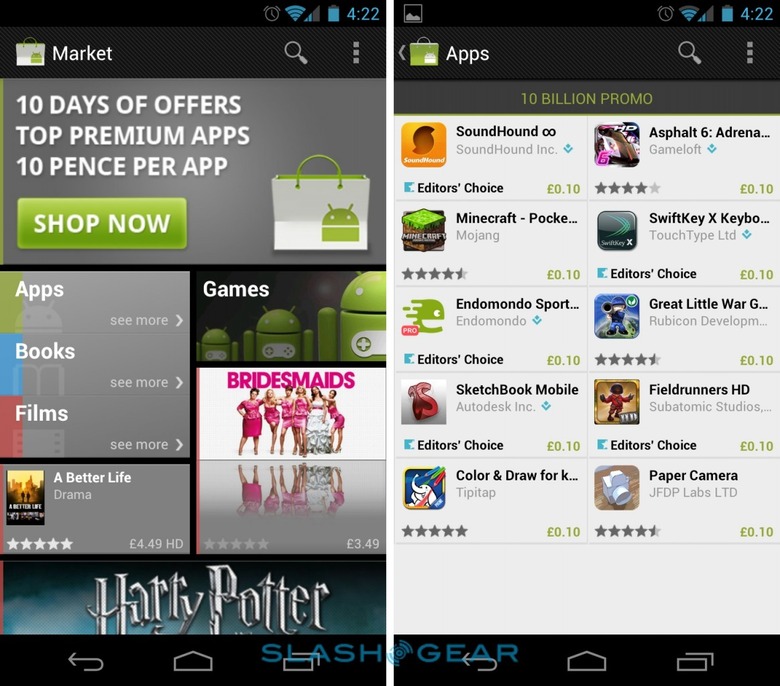 Google has kicked off a new Android Market promotion to celebrate 10 billion downloads, offering ten days of offers on premium software. The 10 Billion Promo sees ten apps being released each day at just $0.10 in the US (or £0.10 in the UK, as per the screenshot below), with first day titles including SwiftKey X, SoundHound and SketchBook Mobile.
The remaining titles are Asphalt 6, Minecraft, Endomondo Sport, Great Little War Game, Fieldrunners HD, Color & Draw for kids and Paper Camera. Google hasn't detailed the promotion yet, but we're assuming the line-up is likely to change daily as the celebration goes on for the next week and a half.
Although this is obviously a useful way for Android users to pick up some cheap apps, it's also a handy way for Google to encourage people to register credit cards with the Android Market. Previous stats have seemingly confirmed anecdotal evidence that Android users buy fewer paid apps than their iPhone counterparts, despite Google's best efforts otherwise. The search giant's hope is likely to be that, with a few cheap apps to lure them in, users will continue to spend once the 10 Billion Promo is over.