Piper Jaffray says Apple users buy 61% more apps and pay 14% more per app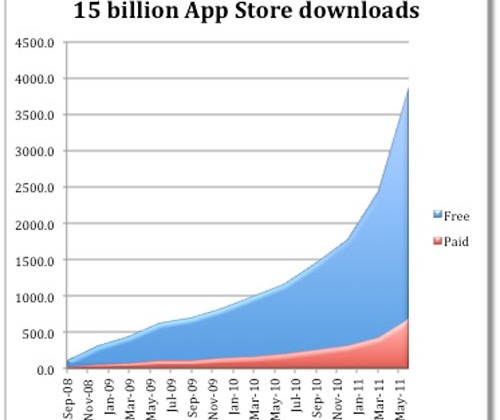 Piper Jaffray has released some estimates on the Apple App Store. The firm believes that Apple is increasingly dependent on the health of the App Store. The report was written by analyst Gene Munster and he said the App Store is doing well. The App Store recently hit 15 billion downloads. The report claims that the average iOS device owner will download 83 apps in 2011 versus 51 in 2010.
That is a 61% increase in downloads per user compared to 2010. The average selling price of the apps is rebounding as well according to Munster. The ASP has gone up 14% from 2010. The App Store is larger than the competing stores like the Android Market as well notes Munster. This is no surprise; the App Store has always been larger.
Munster says that the App Store has 425,000 apps and the Android Market has 200,000 apps. Google's Android Market has had 4.5 billion downloads compared to the 15 billion on the App Store. Granted the App Store has been around for a longer time than the Android Market. The report also shows that 82% of the apps on the App Store are free and the 18% of apps that are paid cost an average of $1.44 each.