Android Lollipop, Nexus 6, 9, and Player all arrive!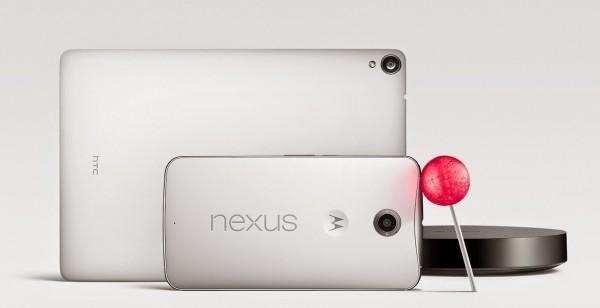 You've been waiting for it, and now it's here. The Nexus 9 has arrived, and is branded with a very small HTC logo at the bottom. All the rumors, all the chatter, it was all true. In addition to the Nexus 9, we are also getting the Nexus 6, a VERY Motorola product. In fact, it looks like a bigger Moto X, which is exactly what we'd heard it would be. As if that weren't enough, a Nexus set-top box is also seeing the light of day.
The Nexus 9 has brushed metal sides and that 8.9-inch screen we previously heard would come with it. There's nothing new, spec-wise, from what has been reported prior to today.
The Nexus 6 is a Google collaboration with Motorola, and as we said — looks like a big-'ol Moto X. You're looking for specs, but we've already told you about them. A 6-inch screen and 13MP camera rule the day, here (see? A big Moto X!).
The Nexus Player is a bit of a shock, though. In collaboration with Asus, Google is releasing the first official Android TV box. Google says it will offer streaming movies, music, and videos — just as you'd expect it would. The coolest part here is that you can stream your phone or tablet games to the TV. Google is cobbling in a gamepad, and if you don't have a Chromecast, it's Google Cast ready.
The Nexus 6 and 9 come with Android L, too. The Nexus 9 tablet and Nexus Player will be available for pre-order October 17, and will arrive in-store November 3. The Nexus 6 comes available for pre-order later this month.
The Nexus 6 will come unlocked via the Play Store, but will also be made available on all four major carriers stateside. Google isn't yet sharing when the carriers will have the device.
Source: Google