Android Fragmentation visualized by OpenSignal: Jelly Bean in the lead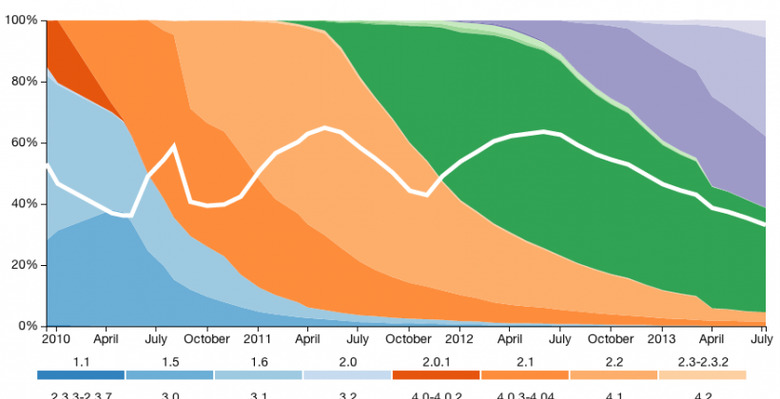 It's time again to have a peek at how fragmented the world of Google's mobile operating system Android is – and to see how one app can take a stab at bringing a real survey sample to the public in turn. What the developers behind OpenSignal have done is to analyze the Android device market using the data they've collected from users downloading their app. What this amounts to in short is 8 versions of Android still in use today, 37.9% of Android users using some form of Jelly Bean, and 11,868 distinct Android devices "seen" this year alone.
This study doesn't even cover the entirety of 2013 and already the team at OpenSignal have seen nearly twelve thousand different pieces of Android hardware. That doesn't mean they've all been made or introduces this year, but it certainly does speak to the idea that Android device makers have saturated the market. It's easier to spot a phone with Android these days, it seems, than to spot one without.
This study also saw 3,997 distinct Android devices last year. When the team here says "seen", it means that these devices have either downloaded or attempted to access their OpenSignal app.

As for the fragmentation of Android operating system iterations out there in the wild today: it's really Jelly Bean that's carving out the biggest piece of the pie today. After that, of course, is Android versions 2.3.3-2.3.7 Gingerbread (34.1%), then a small fragment at 6.1% of the whole dedicated to versions 2.1 (Eclair 3.1%) and 2.2 (Froyo 3.1%) of Google's mobile OS.
Perhaps the most interesting sliver included in this breakdown is the 0.1% that is Honeycomb. This was a tablet-oriented iteration of Android that was only out on a variety of tablets – and a small handful of smartphones – that either sold in very small numbers or were upgraded to newer versions of Android in turn.
This information is also compared in turn with Apple's mobile operating system iOS which is, as expected, at 95% in the wild up on iOS 6, with just 5% at iOS 5 and 1% on any earlier version.
BONUS: HTC's Jeff Gordon lends some words of wisdom:

SOURCE: OpenSignal