Android appeal grows amid Apple slump claim researchers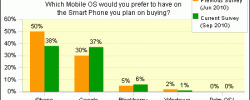 The latest set of smartphone metrics is out, and it's likely to spawn another bout of Apple/Google arguments over whose platform is the most appealing and keeps users the happiest.  ChangeWave questioned 4,000 smartphone owners and would-be owners, and found that in the three month period between their last survey in June 2010 and their new September 2010 figures, the percentage of people looking to buy an iOS device like the iPhone fell from 50-percent to 38-percent, while the number preferring to buy an Android device rose from 30-percent to 37-percent.
That 7-percent shift is, in fact, the latest jump in what's apparently been a six-fold increase in Android consumer preference over the course of twelve months.  iOS saw a spike in popularity after the iPhone 4 launch, but then fell again afterwards.
However, Android isn't ticking every box quite yet, at least according to ChangeWave's findings.  In cellphone satisfaction, 74-percent of iPhone buyers said they were "very satisfied" with their current device, whereas only 65-percent of Android handset owners said the same.  That still puts them both significantly ahead of Palm, RIM and Windows Mobile, however.