Android 4.3 Jelly Bean upgrade hits the web in secret [UPDATE]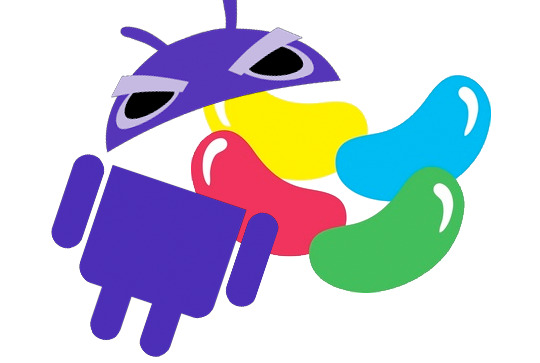 Though you're not going to be able to work with it yourself until later this month (at the earliest), the next big upgrade to Google's mobile operating system is out there in the wild right this minute. As Google I/O 2013 approaches, so too have suggestions that Google will reveal a collection of feature upgrades for their most basic mobile operating system software. At the moment the signs of life for Android 4.3 are small, but they're there – having appeared for the first time here on SlashGear earlier this week!
What you're seeing below is Google Analytics look at not one, but two new operating systems that may be getting a bit of a test here in the week before Google's push to the public. Though we've heard just a tiny bit of information on Android 4.3, and trust that Google will release it with a continuation on the code-name Jelly Bean, the other appearance isn't especially trustworthy as a solid reading.

Android 5.3.8 comes from a provider by the name of Pardaz GoStar Ertebatat Berelian Limited Liability Company and comes from Iran. Because it's essentially impossible for a new operating system from Google to have emanated from the source this one does here, it'll be best to discount it as either a hacked system – pushing that number falsely – or as a non-Android OS posing as one for the giggles.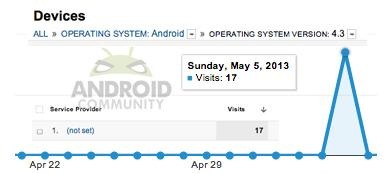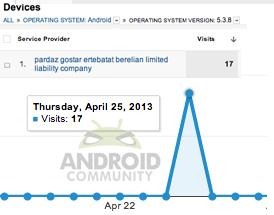 Android 4.3 Jelly Bean, on the other hand, appeared from an unknown source and hit SlashGear 17 times on the 5th of May. This appearance is one that we've got no doubt about: Android 4.3 will be appearing very soon, you can bet on it. Have a peek at the timeline below for more information on Android 4.3 Jelly Bean (Google's newest upgrade to Jelly Bean from Android 4.2.2, that is), and stick around for Google I/O 2013 starting Monday of next week!

UPDATE: The Jelly Beans continue to pop up! As you'll find here, Android 4.3 appearances have now spread out over the course of a few days. Odd, though it is, we still have no reason to believe that this is anything but a legitimate set of appearances by the upcoming upgrade to Android that'll more than likely be appearing next week.