Android 2.3.3 Gingerbread For Nexus S And Nexus One Now OTA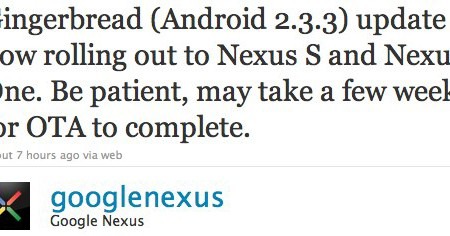 Prepare to spend a whole lot of time checking and re-checking your phone, as Google confirms that the over-the-air (OTA) update for Android 2.3.3 Gingerbread is headed out to the Nexus S and Nexus One. The latter's first official taste of Gingerbread, the update has been long anticipated since the Nexus S brought 2.3 to market in late 2010.
Unfortunately, you may be eyeing your Nexus for some time, since Google warns the OTA update "may take a few weeks" to show up on your phone. It's likely that a side-loading version of the official ROM will be made available well before that, however, so the truly impatient will be able to relieve themselves.
[Thanks n900mixalot!]