Android 2.0 detailed: Exchange & Facebook, simple YouTube uploads, more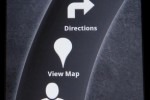 Android 1.6 is only just rolling out to users of specific smartphones, but already we're getting particularly excited about what's set to occur in OS 2.0.  The Boy Genius Report are doing nothing to minimize that excitement, either, with a photoset and run-through of just what's going on in the latest 2.0 builds.  Android 2.0 brings with it not only native Exchange support and a fresh – dare we say it "grown up" – new UI, but native Facebook integration, a unified email inbox and new Maps app.
Google have also obviously been working on streamlining usability, too, with more functional desktop widgets that step beyond mere shortcuts.  You'll be able to trigger a YouTube upload in literally two taps, from recording through titling and describing footage then squirting it off to the video sharing site, direct from the homescreen.  Meanwhile, while there's no multitouch support in either the browser or the new, layer-toting Google Maps app, there is double-tap to zoom.
Learning, perhaps, from the HTC HD2's in-car navigation pane, Google have also developed a Car Home page for easier access to commonly used functions while driving, such as internet voice searches, voice-controlled mapping of POIs and more.  Like in HTC Sense and Motorola MOTOBLUR, contacts now have pop-up menus with social networking integration.
What will be interesting is seeing how those manufacturer-specific custom interfaces shift to keep ahead.  Google's bare OS looks set to deliver functionality companies like HTC and Motorola are currently using in an attempt to differentiate their devices from the rest of the Android crowd; oh, to be a fly on the wall in the HTC and Motorola labs.