An Apple Passbook driving license for the UK is in the works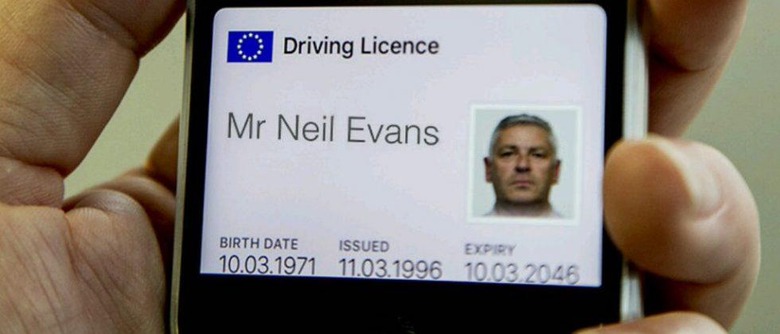 Drivers in the UK could eventually take their driving license out of their physical wallet and store it in Apple's Passbook instead. The work-in-progress feature – which would see license information stored digitally in the iPhone's virtual wallet – was teased by the CEO of the Driver and Vehicle Licensing Agency (DVLA), the UK's equivalent of the US's DMV.
"So here's a little prototype of something we're working on," chief exec Oliver Morley said, showing an image of an iPhone with the Passbook screen open, and a UK driver's license there among other cards.
Passbook is Apple's attempt to virtualize the wallet. While it's most commonly associated now with Apple Pay, the contactless payment system, and can be used to store multiple credit and debit cards, Passbook can also be used to collate digital versions of loyalty and membership cards, tickets, and other passes.
In the case of the DVLA, it's the latter which is of interest. Currently, the UK has a credit card-sized license card much the same as US states issue cards, complete with a photo of the driver, their personal details like date of birth and residential address, and a list of the various vehicle categories they're permitted to drive.
Though details from the DMV on this Passbook version are scant, it would appear that the goal is to leave the physical card at home and instead simply access its details through the iPhone.
Presumably presenting the virtual version to police or other agencies would be considered just as acceptable as offering up its plastic equivalent.
There's no telling when – or, indeed, if – the idea will make it to release. Still, given how many people have already half-emptied their wallets of payment and loyalty cards, since their phones now do all that for them, the prospect of doing away with another physical object to carry is a tempting one.
No word on whether any US states are considering doing the same thing and offering drivers a virtual version of driving licenses, though the ability to link a database of driving records to such a card would, you could safely assume, be of interest
So here's a little prototype of something we're working on #drivinglicence pic.twitter.com/a5eItrdiNI

— Oliver Morley (@omorley1) May 13, 2016
Update: According to a subsequent tweet by Morley, right now this is a prototype only with no timescale for an actual release, and were that to pan out it would be offered in addition to – not replacing – the regular photo card.
1) prototype = no timeline yet
2) not replacement for photocard, an add-on
3) security our priority
4) possible because #nomorecounterpart— Oliver Morley (@omorley1) May 13, 2016