SlashGear at CeBIT: AMtek T200 'iTablet'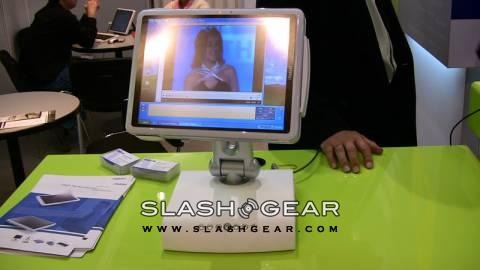 With a name like "iTablet" and a glistening white colour scheme, it's obvious which company AMtek is trying to provoke comparisons to with its latest Tablet PC. It's an old – and unimpressive – routine, and frankly they don't really need the name; it's an attractive unit in its own right. Anyway, associations aside, AMtek's latest runs XP not Vista and, according to their site at least, has an odd mix of decent and bland features.
Case in point: size is great, with the whole thing being only a little larger than the 12.1-inch display, just 0.94-inch thick and less than 3.3lbs on the scales. Shame it's an XGA, 1024 x 768 panel, rather than a higher-res SXGA+ one as seen on some competitors. Reported battery life is fair too, at four hours, but you might be spending a lot of that time waiting for it to churn along since it apparently only supports a maximum of 1GB RAM. Processor choices of Pentium Ms ranging from 1.0GHz to 1.5GHz are par for the course, but the base 40GB hard-drive is a tad stingy.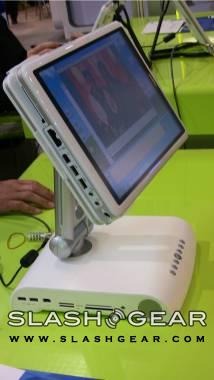 There's WiFi in 'b' and 'g' forms onboard, but no Bluetooth, and that docking station might have a broad bevy of ports as well as space for an optical drive but is an optional extra.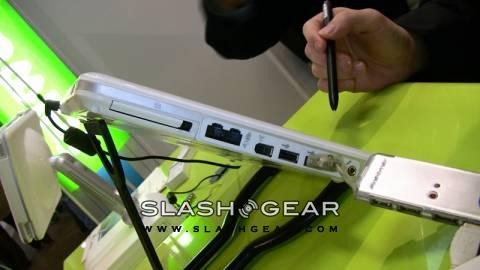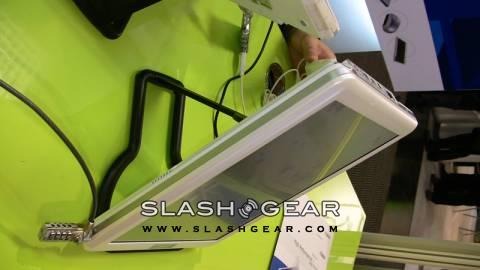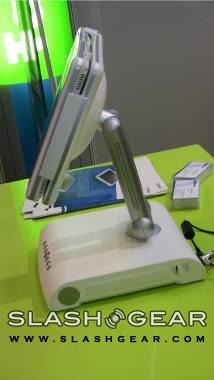 It's possible that these demo models at CeBIT 2007 are better spec'd than anything the website has to say; hopefully our man Vincent Nguyen, who took these photos, will be able to fill us in on the details.