AmpStrip packs Band-Aid with biometrics: Hands-on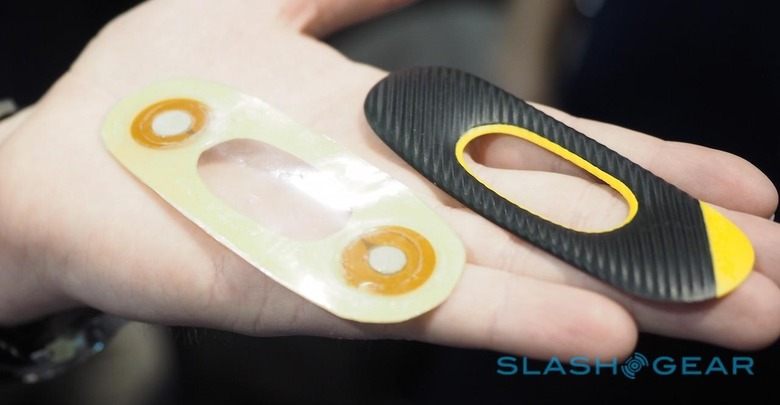 Fitness wearables haven't been in short supply here at CES, but whether they're on your wrist as a watch or band, or clipped to your clothes, there's the hassle of always remembering to attach them. AmpStrip aims to bypass that by sticking to your skin, a digital, wireless Band-Aid that can track heart rate and movement and then funnel that data via Bluetooth to your phone. By opting for direct skin contact, AmpStrip says, not only are the biometric readings more accurate, but you can go several days without having to think about the sensor itself.
At 3.5-inches long and an inch wide, and under an half-inch thick, this is a pretty chunky Band-Aid, but then again a regular sticking plaster doesn't have to accommodate a single lead ECG sensor, 3-axis accelerometer, battery, and Bluetooth LE radio.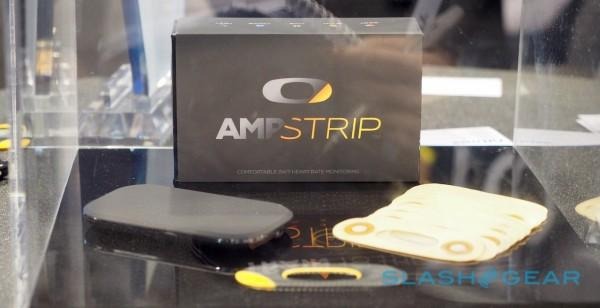 In fact, AmpStrip comes in two halves. The top layer wraps the main components in a rubberized shell, and is the part designed to be kept. It's waterproof and flexible, made of medical grade silicone module, and houses memory for up to 24 hours of gathered data.
The other part is the self-adhesive strip, which is what keeps AmpStrip glued to your body – the recommendation is on the left side, against your ribs – and has the sensor probes integrated. It lasts 3-7 days, the company tells me, depending on what activities you're getting up to.
Initially, AmpStrip will offer a single type of strip, dubbed "Competitor" grade, which can stand up to swimming workouts and "strenuous whole body efforts." In future, though, there'll be different types suited for other levels of activity.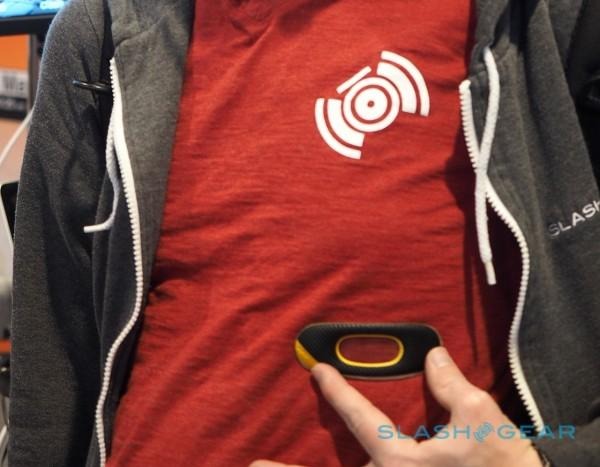 Battery life is up to seven days from a 20 mAh pack that recharges wirelessly. A full charge takes 2-3 hours.
Although the company is working on its own iOS and Android apps, AmpStrip will also be able to feed data into third-party platforms like EndoMondo, RunKeeper, Strava, MapMyRun, and more. Effectively, as long as they support a Bluetooth LE heart-rate monitor, they'll be able to tap into the digital Band-Aid's data stream.
There's no shortage of information, either. Along with heart rate and heart rate zones, there's resting heart rate while sleeping and recovery times, respiration and skin temperature, steps, and calorific burn. It'll also track posture, active versus idle time, sleep, and even stress levels.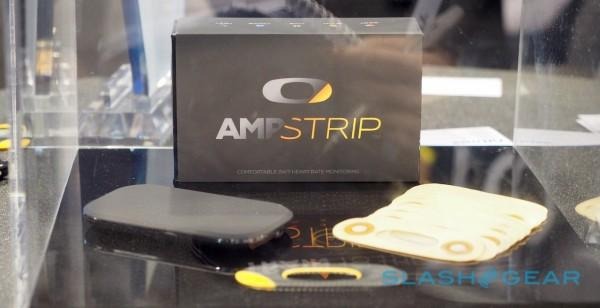 In the box initially will be the brain section of the AmpStrip and the USB-powered wireless charger, along with 30 adhesive strips. Replacement strips will be sold at $30 for a 3-6 month supply, working out to approximately $1 apiece.
AmpStrip has already passed through its Indiegogo goal, and is expected to begin shipping in June 2015. It'll be $149.99 at retail.
MORE AmpStrip