Amimon Wireless HD chips carry 1080p 60Hz over 100ft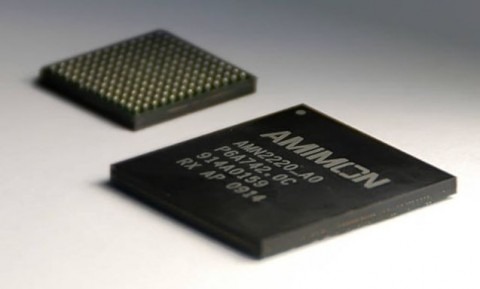 Amimon have announced a pair of new wireless HD chip, the AMN 2120/2220, which are capable of carrying an uncompressed 1080p 60Hz high-definition video stream up to 100ft, even if there are walls in-between.  The transmitter/receiver pair use the WHDI standard, rated up to an equivalent of 3Gbps.
WHDI supports HDCP copy protection and has sub-1ms latency, making it ideal for replacing HDMI cables between Blu-ray, DVD and set-top boxes and HDTVs.  It also interfaces directly with the video I/Os, which saves on intermediary components, and since it uses the 5GHz band there's no wireless spectrum licensing fees.
The Amimon chips are not available to commercial end-users, but instead are intended for peripheral manufacturers to include in wireless HDMI products.  The company sold over 100,000 chipsets in 2008; the pair of chips cost $45 in production quantities. 
Press Release:
AMIMON's Second Generation Wireless 1080p Chipset Now Available

Chips to Enable HDTVs to Support the WHDI Standard

SANTA CLARA, CA—(Marketwire – April 29, 2009) – AMIMON Inc., the market leader in wireless HD semiconductor solutions, announced today the immediate availability of its second generation baseband chipset. The second generation transmitter and receiver chips (AMN 2120/2220) are designed for the WHDI™ (Wireless Home Digital Interface™) standard and are the first chipset capable of wirelessly delivering full uncompressed 1080p/60Hz HD content throughout the entire home.

The second generation chipset is based on the revolutionary video modem technology operating in the 5GHz unlicensed band, pioneered by AMIMON and the backbone of WHDI. The robustness of AMIMON's video modem technology has been proven in consumers' homes with AMIMON's first generation chipset which was integrated into wireless HDTV products from leading TV manufacturers. The second generation chipset offers significant enhancements both in quality and in feature-set.

Key features of AMIMON's AMN 2120/2220 include:

— Designed for the WHDI standard

— HD video: 1080p/60Hz & high quality computer graphics; equivalent video rates up to 3Gbps

— Range: multi-room – beyond 100 feet (30 meters) through walls

— Latency: less than 1 millisecond

— Hollywood approved HDCP 2.0 copy protection

— Low power consumption modes for portable devices

— Low cost – mass adoption price points

— 5GHz unlicensed band with support for Dynamic Frequency Selection (DFS)

The second generation chipset provides CE manufacturers with a low cost HD wireless connectivity solution. The chipset is built on a programmable platform that can be tuned for conformance with the WHDI standard specification. The chipset interfaces directly with the video I/O's, saving the cost of any additional components such as CODEC chips, memory buffers and controls.

The AMN 2120/2220 chipset can be embedded into CE devices such as LCD and plasma HDTVs, multimedia projectors, A/V receivers, Blu-ray DVD players, set-top boxes (STBs), game consoles, computers, DVRs, PCs and HD video accessories/dongles, allowing wireless streaming of uncompressed HD video and audio.

The WHDI standard, promoted by the top CE manufacturers is the only standard to enable whole home, wireless uncompressed HDTV connectivity.

"The first generation chipsets received considerable interest, as AMIMON sold over 100,000 chipsets in 2008 and we expect increased demand for the second generation chipsets," said Noam Geri, vice president of marketing and business development for AMIMON. "AMIMON's first generation chipset made wireless HDTV in the home a reality; the second generation WHDI chipset will make mass-market, interoperable standard-based wireless connectivity in every home a reality."

"Among home entertainment enthusiasts 1080p HDTVs are in high demand and ease of use technologies, such as a wireless interface alternative, are expected to see increasing demand from consumers," said Randy Lawson, Senior Analyst, Digital TV Semiconductor and Display Drivers for iSuppli. "AMIMON's technology provides an effective solution to meet the growing consumer, as well as OEM, desire for ease of use features while maintaining the high quality 1080p."

AMIMON's second generation chipsets and reference designs are available now. AMN2120 and AMN2220 interface directly to AMIMON RF transceivers AMN3110 and AMN3210 respectively. Pricing for production quantities of the WHDI transmitter chipset AMN 2120/3110 is $20 and of the WHDI receiver chipset AMN 2220/3210 is $25. Companies, engineers and developers interested in additional information should contact AMIMON at info@amimon.com.

For further technical details please visit: www.amimon.com/technology.shtml.

About AMIMON

AMIMON is a fabless semiconductor company pioneering wireless uncompressed high-definition video for universal connectivity among CE video devices. AMIMON is a founding member of the WHDI™ (Wireless Home Digital Interface) SIG formed by leading CE companies to define a new industry standard for multi-room wireless HDTV connectivity.

AMIMON is headquartered in Herzlia, Israel, with offices in Santa Clara, Calif., USA; Tokyo, Japan; and Seoul, Korea. More information is available at www.amimon.com and www.whdi.org.

WHDI is a trademark of AMIMON, Ltd. All other trademarks or registered trademarks are those of their respective holders.