Amex Digital SP-7 digital frame with built-in photo printer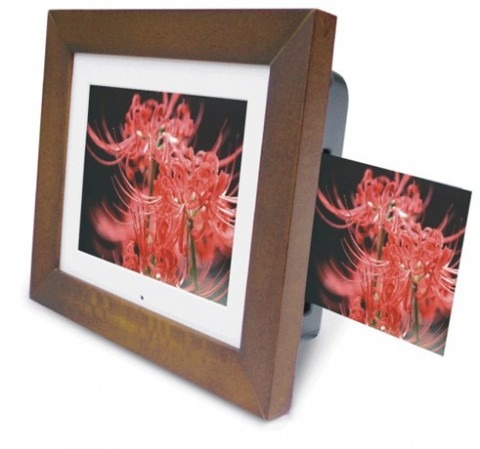 A printer's incorporated digital frame isn't new to us, Smartparts unveiled the first one back in CES 2009 with a 8-inch SVGA panel that provided an instant 4x6 photo printout with a click on a button. That was a 4:3 aspect panel, now you can have a 16:9 LCD from Amex Digital with similar feature.
Amex Digital has announced the SP-7 digital frame with a photo printer built in, details of technology were not disclosed, we aren't sure if it has anything to do with Zink's Zero Ink technology like the Dell's Wasabi. The LCD sports a 800x480 widescreen display with adjustable brightness, and a set of speaker to provide audio output for music and movies. A remote control is supplied to control picture slideshow and media playbacks.
Like most digital frames, it has a multimedia card reader that's compatible with MS/MMC/SD/XD/CF memory format cards, as well as an USB connectivity for external storage. The Amex's photo frame will retail for $199, comes with acrylic or wood finish.