Dell Wasabi PZ310 is pocket-sized Inkless Photo Printer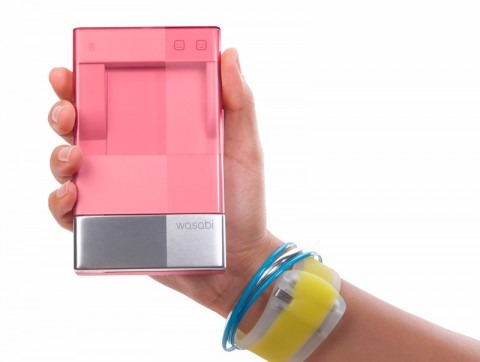 Wasabi printer? Dell's marketing has came out with a product with name that makes absolutely no sense, we can only guess it's catchy. Dell's Wasabi PZ310 has nothing to do the Japanese culinary plant or even color likes one. It's an ultra mobile pocketed sized printer, weights in a mere 7 ounces, and designed specially for on-the-go photo printing and sharing.
The Wasabi works directly with digital cameras, mobile PC or handheld devices that support PictBridge over USB or Bluetooth connectivity. The small form factor printer utilizes the same Zink's Inkless technology with ability to print a borderless full color 2"x3" peel-and-stick ZINK paper. The unit itself doesn't carry any ink, it's the dye crystals that hide inside the specially patented ZINK paper; when heat from the printer, crystals are melted to release color. The Wasaki can store up to 12 sheets of ZINK paper in one load.
The Dell PZ310 is available in pink, black and blue. It's shipping now with a limited introductory price of $99 , a $50 price cut from regular retail of $149.
ROUND ROCK, Texas –(Business Wire)– Feb 10, 2009 Dell today announced the Wasabi PZ310 ultra-mobile printer for instant photo printing and sharing anytime, anywhere. Wasabi is designed to work with Bluetooth-enabled* camera phones, digital cameras and mobile PCs as the perfect travel companion for capturing and sharing memories with instant wallet-size photos.

Wasabi joins the growing family of Dell products like the Inspiron Minis and the Dell Design Studio that are redefining value, personalization and customization for connected mobile lifestyles.

The News:

* Works with popular mobile phones like the RIM Blackberry Curve, LG Trax and Motorola RAZR V3.

* Real-time sharing when you're hanging out, at school, at the game or at a concert.

* Wasabi measures just 4.8 in. x 2.8 in. x 0.9 in. and weighs 7 ounces.

* Prints 2 in. x 3 in. borderless color images in less than a minute.

* Sticky-back photo paper is perfect for scrapbooking and decorating favorite surfaces – like lockers, message boards and laptops.

* User-friendly, simple buttons and indicators make operation intuitive and easy.

* Available in three vibrant colors – pink, black and blue.

* Uses Bluetooth for wireless connectivity and PictBridge for physical connections.

* Inkless, no-mess ZINK™ Printing Technology from ZINK Imaging renders sharp, vivid images.

* One-touch reprint function allows for the duplication of the last printed image with ease.

* Stylish high-polish ergonomic look offers a sleek design and an exciting, fun-filled experience.

* Wasabi is available online in the U.S. at www.dell.com/wasabi.

* Launching with $99 promotional price for a limited time – regularly $149.

* Compatible with Bluetooth 2.0 with at least one of the following file transfer types: FTP, BPP, BIP or OPP.