AMD x86 CPU production threatened by Intel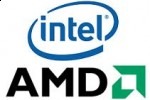 Intel has threatened AMD with the termination of their x86 cross-licensing agreement, after AMD revealed its intention to spin out chip manufacturing.  The agreement – which sees AMD make PC and server CPUs using x86 architecture licensed from Intel – is believed to include a clause whereby AMD are required to manufacturer a certain proportion of chips in-house.
"Advanced Micro Devices, Inc. (the "Company") has received correspondence from Intel Corporation ("Intel") related to the 2001 Patent Cross License Agreement between the Company and Intel (the "Cross License"). In this correspondence, Intel (i) alleges that the Company has committed a material breach of the Cross License through the creation of the Company's GLOBALFOUNDRIES joint venture and (ii) purports to terminate the Company's rights and licenses under the Cross License in 60 days if the alleged breach has not been corrected" AMD filing
AMD had informed company investors that the Global Foundries deal would not impact the Intel license, a reassurance that now seems premature given that Intel are alleging "material breach of the cross license".  In response, AMD have accused Intel of violating the agreement terms by threatening termination.
AMD now has 60 days to "correct" the alleged breach, but is more likely to take the case to court.  Given the secret nature of the licensing agreement, it's unlikely that many details will emerge from the legal battle.
[via GigaOM]