AMD Trinity official: Hands-on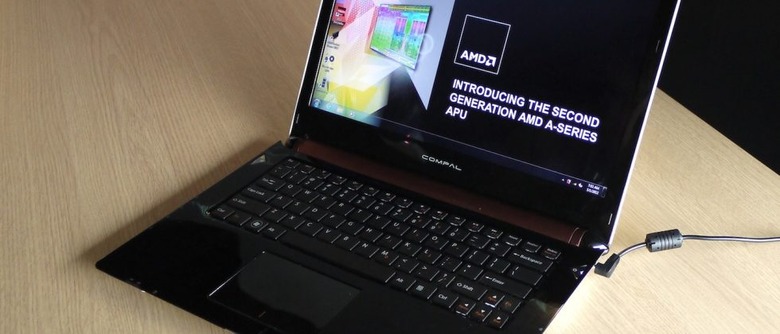 is back, and the company isn't willing to take a back seat to Intel any longer. Trinity, AMD's second-generation
(Accelerated Processing Unit) is official, and it's the mainstream platform the company expects to challenge Intel's
in everything from ultrabook-rivaling ultrathins, though notebooks and into desktops and all-in-ones. SlashGear caught up with AMD earlier this month to find out what makes Trinity so special.
APUs debuted with AMD's first-generation Llano platform, combining the best of CPU and GPU technology onto a single die, and harnessing the logic power of the CPU and the creative power of the GPU to deliver performance the company argues is far better suited to today's typical computing use-cases. Today's users, AMD points out, are far more likely to be gaming, processing multimedia or watching high-definition video than editing spreadsheets or doing other solely-CPU dependent tasks.
Meanwhile, AMD says, the standard abilities of Intel-powered PCs aren't keeping up with those uses. 60-percent of laptops ship with integrated graphics only, AMD's head of desktop and software product marketing Sasa Marinkovic, told us, and that despite 3rd Gen Core chips having their own onboard GPU, they're still not quite up to scratch. "30fps at 1080p is not something [Intel] can do easily with Ivy Bridge" Marinkovic says, but Trinity can.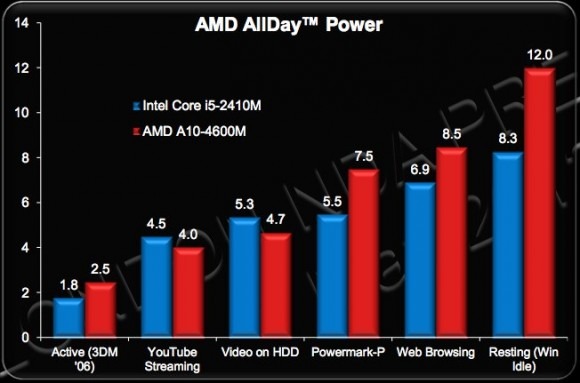 Trinity uses the same chip size as Llano, but squeezes 1.303bn transistors onto the die rather than 1.178bn. More importantly, AMD has introduced a new, lower power version, meaning Trinity APUs now start at 17W rather than 35W. The claim is twice the performance per Watt – in fact, AMD says users will see the same performance from a 17W Trinity ultrathin as they did from a 35W Llano notebook, or indeed 50-percent more performance from a 35W Trinity notebook as they did in its Llano predecessor.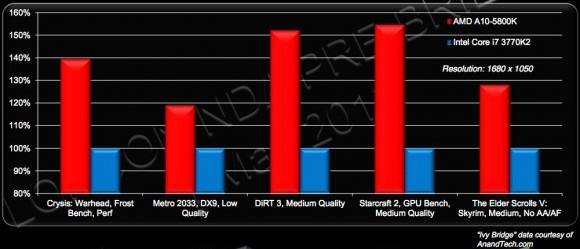 There's a new dual-channel DDR3 memory controller, a unified Northbridge and a new Northern Islands Radeon GPU along with an HD Media Accelerator. Up to four "Piledriver" cores with 2MB L2 cache are the other half of the chip, flanked with HDMI, DisplayPort 1.2 and DVI controllers, along with 24-lane PCI Express I/O. There's support for DirectX 11, USB 3.0, SATA 6 Gb/S, AMD Eyefinity and HDMI 1.4a, and AMD quotes up to 736 Gflops and up to P1361 in 3DMark11.
Despite the performance increases, AMD also expects markedly improved battery life for Trinity-based notebooks. Up to 8.5hrs browsing is on the cards, or 4.7hrs of local video playback or 4hrs of YouTube streaming, from the average portable.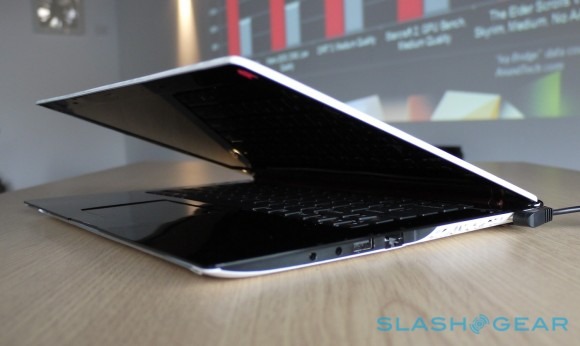 AMD isn't leaving Trinity's multimedia experience to chance, however. Trinity brings with it a new HD Media Accelerator, with H.264, MPEG-2, VC-1 and DivX support, and featuring a duo of headline technologies for improving video playback. AMD Quick Stream works as a bandwidth balancer, automatically identifying and prioritizing streaming internet video such as from YouTube, and throttling background data use so that foreground playback doesn't stutter. It won't help if your overall bandwidth is insufficient, of course, but it's enough to prevent an active file download from impairing your video enjoyment.
AMD Steady Video, meanwhile, works with Internet Explorer, Firefox, Chrome and Windows Movie Player and, thanks to a new API for third-party developers, apps like VLC Media Player. It uses real-time image stabilization algorithms to smooth out video playback, even if the source clip is considerably jerky. In VLC, for instance, that functionality manifests as a new button to toggle Steady Video on and off, something which in AMD's demonstration for us with a particularly jumpy handheld video clip made a significant difference.
Steady Video isn't the only third-party enhancement on offer with Trinity. The new APUs are ready with hardware acceleration support for HTML5, and AMD has been working with Microsoft for 2-3 years on making sure the Windows 8 Metro UI and apps – themselves coded in HTML5 – are all Trinity accelerated. The necessary WDDM 1.2 drivers are already prepared, together with compatibility for existing software and peripherals.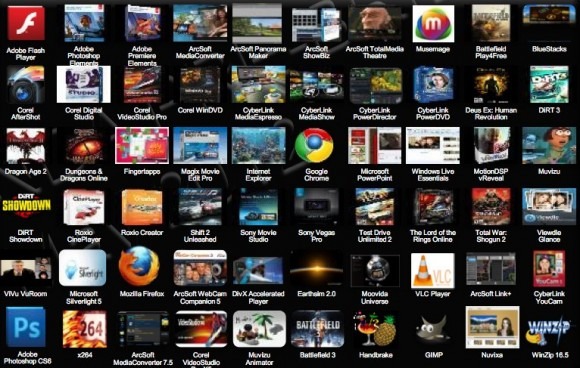 AMD has a cavalcade of APU-accelerated applications from dozens of developers, with Google Chrome, Adobe Flash Player, Mozilla Firefox, Adobe Photoshop CS6, Microsoft PowerPoint, Handbrake and GIMP being notable stand-outs. In CS6, for instance, there are over thirty GPU-accelerated features, including Liquify, Transform and Warping, while OpenCL is now used to accelerate Blur rendering. Handbrake will be updated in June to support Trinity, while video finessing app vReveal has already been upgraded to support the AMD Accelerated Video Converter to reduce encoding times and deliver faster-than-realtime fixes for lighting, color, white balance and shake.
The Trinity range will span four feature points, from the Vision A4, though the A6 and A8, and up to the A10. AMD's top-spe$379c model will remain the Vision FX, offering eight-core CPUs and still based on discrete x86 technology. A4 systems will kick off at $379, A6 systems from $449, A8 systems from $549 and A10 systems from $699.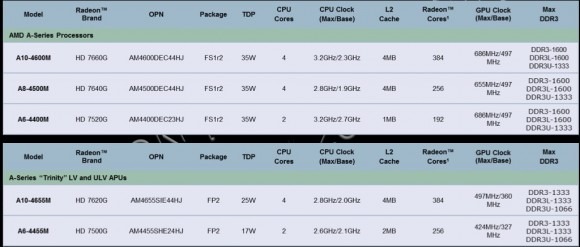 Meanwhie, there will also be a new Brazos 2.0 entry-level range of APUs, sold under the Vision E2 line and featuring Radeon HD 7000 Series graphics and 1.4GHz or 1.7GHz CPU clocks. Also including integrated USB 3.0 and SD card reader support, SATA 6Gbps and the same Steady Video and Quick Stream technologies as Trinity, Brazos 2.0 promises up to 11hrs of battery life, roughly 30 minutes longer standby than the previous generation. AMD expects E1 netbook systems to begin at under $349 and E2 budget notebooks at around the $349 point.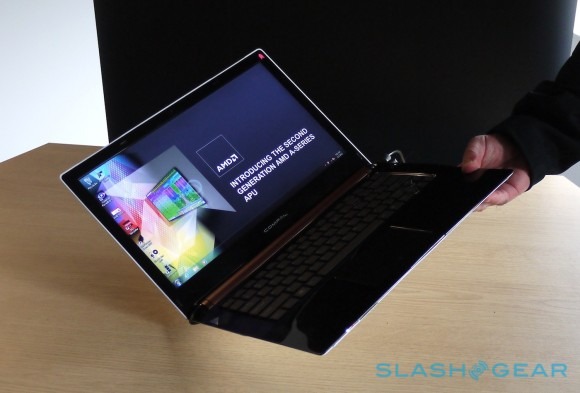 It's Trinity-based ultrathins that will undoubtedly catch the most attention, though, going up directly against Intel's pet ultrabook project. AMD showed us a Compal ultrathin reference design, as thin as its ultrabook rivals, though certainly not yet ready for primetime with its chassis flex and plasticky build. Nonetheless, it was capable of outputting 1080p Full HD video to two separate external displays while simultaneously running its own LCD.
AMD expects the first commercial Trinity systems to show up from June 3, with components hitting the market later in 2012. "All the leading manufacturers" are planning Trinity-based models – either ultrathins, notebooks, desktops or all-in-ones, or some combination – Marinkovic told us, including Toshiba, HP and Samsung.