AMD Temash official: iPad smoothness and x86 grunt for tablets and hybrids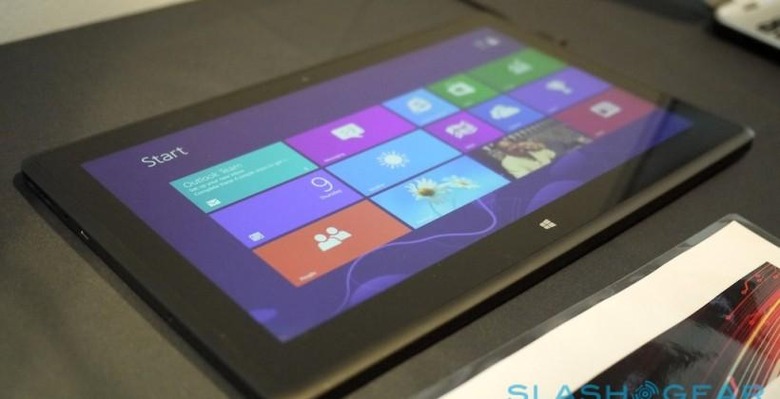 AMD wants to knock Intel and ARM off their mobility perch in 2013, and the new Temash APU is how it expects to do it. Targeting media and performance tablets, as well as keyboard-dockable hybrids and 10- to 13-inch touchscreen ultraportable notebooks, the new A-series of Temash APUs feature Jaguar cores – boasting a 20-percent performance jump over Bobcat – for consumer Windows machines with the perky performance usually associated with an iPad.
As AMD sees it, Temash and Windows is a combination that means the flexibility of a desktop with the performance of a multimedia-centric chipset. The first true AMD SoC, with a choice of dual and quadcore options, Temash offers up to a 212-percent graphics boost-per-watt compared to 2012' AMD C-70 and up to a 172-percent jump in x86 performance per watt.
However, that doesn't come with a battery hit, AMD claims, despite offering between 2x and 5x the performance of Intel's Atom Z2760 in AMD's testing. A Temash-based system can manage up to 12hrs of idle battery life, or up to 45-percent longer than a Core i3-based Windows tablet.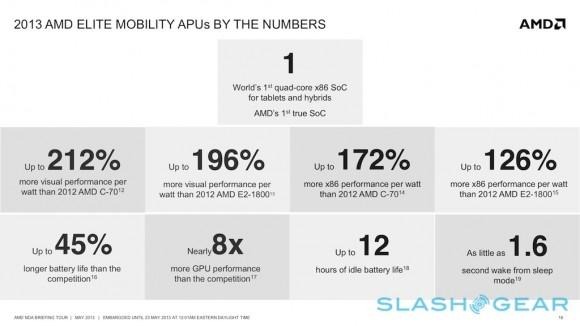 AMD sprinkles some of its extra feature magic on the new A-series. The A400 gets GPU acceleration for apps, along with native video stabilization; the A600 adds AMD Screen Mirror, which wirelessly squirts the contents of the display to a supported TV, together with gesture controls using the webcam, and AMD Face Login, for biometric security. Both have Radeon HD 8000 series graphics.
Connectivity support includes up to two USB 3.0 ports, up to ten USB 2.0 ports, eSATA, HDMI, PCI Express, VGA, and more. There's also support for up to 8GB of system memory and AMD's Turbo Dock system, which boosts performance when a tablet is slotted into a keyboard base station, while prolonging battery life when it's removed.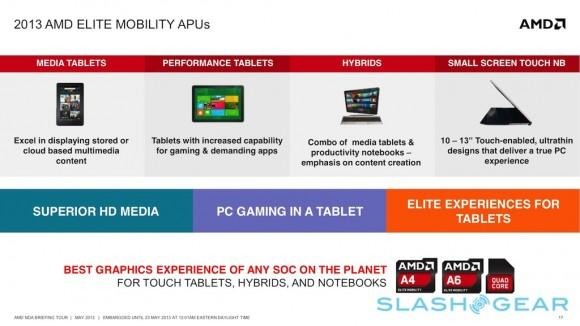 Perhaps most impressive, AMD says the sub-5W versions of Temash can be used in fanless systems. We had a chance to play with a Temash-based Windows 8 tablet, and the experience was impressively good: it was a Quanta reference design, the BZ1T, but the Radeon HD 8180 GPU and A4-1200 1GHz CPU were certainly strong enough to keep Full HD video playing smoothly on the 11.6-inch 1920 x 1080 touchscreen.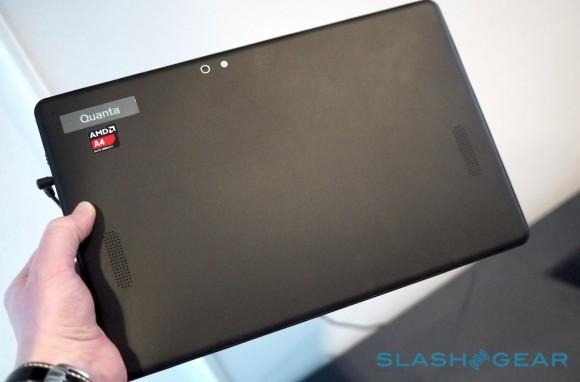 Inside, there was 2GB of DDR3U-1066 RAM and a 128GB mSATA SSD drive, loaded up with HD content that we could then push over wirelessly to a nearby HDTV with a Screen Mirror-compatible adapter. The whole thing was lag-free.
AMD's second Temash demo machine was a compact Acer ultraportable, the Angel. That ran Windows 8 on a lightweight touchscreen notebook with a Temash A6-1450 processor and Radeon HD 8280 graphics. Unlike the tablet, the Angel had a traditional 500GB hard-drive inside, but doubled up RAM to 4GB. It was certainly a fast-moving machine, multitasking between office apps and multimedia quickly, though we'd need to spend more time with it to see whether it really does offer a significant step up from the Intel equivalent.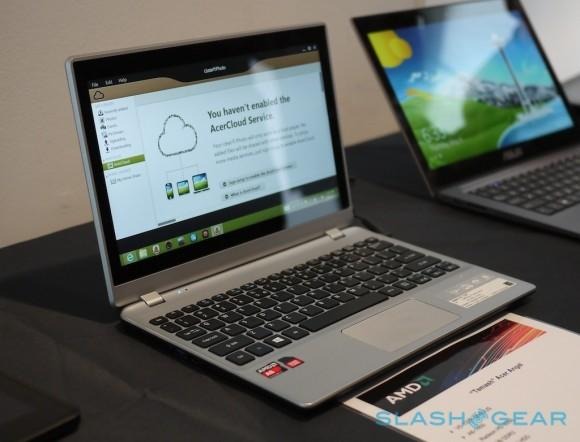 AMD expects the Temash series of APUs to begin showing up in tablets, notebooks, and other form-factors over the coming months.