AMD Radeon VII revealed to bring gaming war to RTX 2080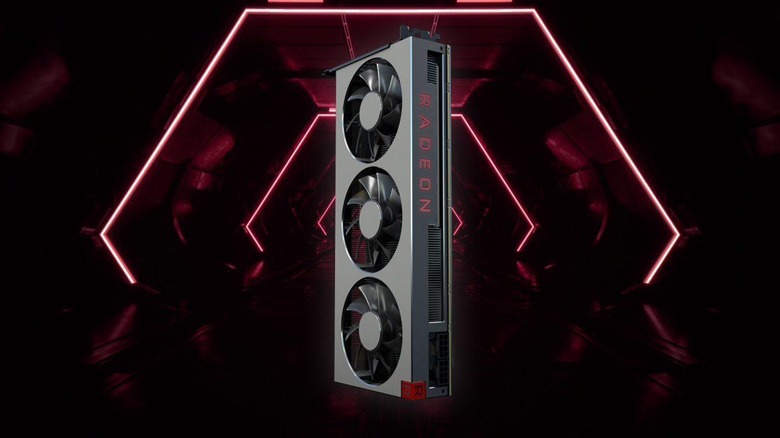 AMD has officially revealed the AMD Radeon VII, a graphics card featuring the first 7nm gaming GPU, at CES 2019 today. Set to go head to head with NVIDIA's GeForce RTX 2080, the new AMD card marks the company's next big push to take on its GPU nemesis and give gamers the graphics potency they demand.
The Radeon VII, or "Radeon Seven", is AMD's first to use a 7nm process for gaming. It packs a total of 60 compute units, 3,840 stream processors, and a whopping 16 GB of second-generation High-Bandwidth Memory (HBM2), with 1 TB/s of memory bandwidth.
As you'd expect, there's support for all of AMD's latest technologies. That means AMD Radeon FreeSync, AMD FreeSync 2 HDR, along with a 4,096-bit memory interface. Overall, AMD claims the second-generation Vega architecture it's using for the Radeon VII makes it 25-percent more potent at the same power levels.
Compared to the Radeon RX Vega 64, for instance, the double-width card will push Battlefield V's DX12 performance up by 35-percent. Fortnite's DX11 will get a 25-percent bump, while the Vulkan used by Strange Brigade will rise a hefty 42-percent. In its CES demo, AMD showed the potent new card running Devil May Cry 5 at 4K resolution, with the settings switched to "ultra", and yet still delivering framerates well in excess of 60fps.
It won't just be games where the Radeon VII shines, mind. Content creation is another area of focus for AMD, and there are significant increases in performance across the board. Again, compared to the Radeon RX Vega 64, the Radeon VII will see a 27-percent boost in Blender and DaVinci Resolve 15 performance, while Adobe Premiere could see a 29-percent jump. Most impressive, OpenCL performance will rise a huge 62-percent, AMD claims.
"For gamers, AMD Radeon VII enables maximum settings for extreme framerates at the highest resolutions," the company says. "It also provides seamless, high-refresh HDR5 gaming at 1080p, ultrawide 1440p and 4K, and enables next-generation photo and visual creation applications on razor sharp, vibrant 8K monitors."
As for when you'll be able to get one yourself, there's actually not long to wait. The AMD Radeon VII will begin shipping on February 7th, the company says, and will be priced at $699. Buyers will get three free games, too, whether they pick up the card on its own or buy a new PC with it installed: the remake of Resident Evil 2, Devil May Cry 5, and The Division 2.
That's mighty competitive with a GeForce RTX 2080 based card, which typically come in at around the $770 point. How well they compare in terms of performance, meanwhile, we'll have to wait for the benchmarks to find out.