AMD Radeon HD 7970: world's first 28nm GPU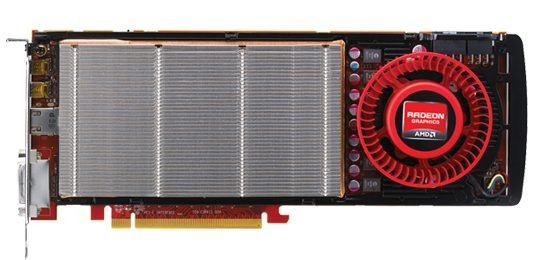 AMD has revealed its newest video card at CES 2012, the AMD Radeon HD 7970, using the the world's first 28nm GPU and Graphics Core Next (GCN) architecture. Packing 3GB of DDR5 video memory, two DVI outputs, two Mini-DisplayPorts and a single HDMI, the Radeon HD 7970 can be combined in up to quad-card CrossFireX setups for frankly ridiculous gaming performance.
Alternatively you can just use AMD Eyefinity and string a number of displays off of a single card. GCN, to boil down AMD's parlance, is basically a way to turn GPUs to general computing, with 32 compute units (2048 stream processors), each containing a scalar coprocessor, and being able to turn their hands to the sort of tasks a CPU might normally be expected to handle.
DirectX 11 tessellation is improved, huge background texture files can be managed with little in the way of lag, and automatic overclocking by up to 30-percent is supported; however AMD says that idle power draw has also been reduced with the new GCN system. In short, the promise is a faster, more efficient card with none of the downtime penalties in power and heat that previous performance cards might have forced on gamers.
Systems using the AMD Radeon HD 7970 are available to order from today.