AMD Radeon HD 7970 GHz Edition squeezes more out of 28nm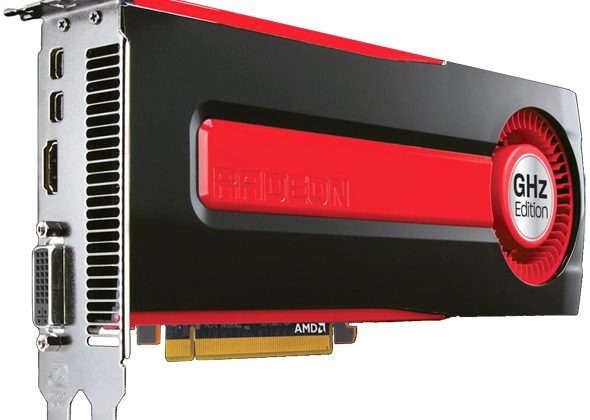 AMDIs has launched a super-speed variant of its top-spec graphics card, the Radeon HD 7970 GHz Edition, boosting core clock speed to 1GHz and introducing Boost overclocking. Based on the AMD Radeon HD 7970 from back in January, the HD 7970 GHz Edition rounds up that card's 925MHz core clock, raises the memory clock from 1.375GHz to 1.5GHz, and increases data rates and memory bandwidth to 6Gbps and 288GBps respectively.
Meanwhile there's a 3GBs GDDR5 fame buffer and support for AMD CrossFire multi-card setups. Those with just one card should be able to squeeze some extra out of it, however, with the introduction of AMD Boost, giving the graphics a jolt to around 1.05GHz when conditions suit. There's also support for manual overclocking.
All of that adds up to a neat increase in performance. According to AMD, compute performance has jumped from the 3.79 teraflops of the regular card to 4.3 teraflops in the GHz Edition, while texture fill rate has climbed from 118.4GTps to 134.4GTps, and pixel fill rate from 29.6GPps to 33.6GPps. Ports include two Mini DisplayPort connections, a single dual-link DVI, and a single HDMI.
The PCI Express 3.0 card will be available from next week, with AMD's usual partners – ASUS, Gigabyte, HIS, MSI, Sapphire, TUL and XFX among them – expected to release versions. Pricing should start from $499.